– By #Powder House Lodge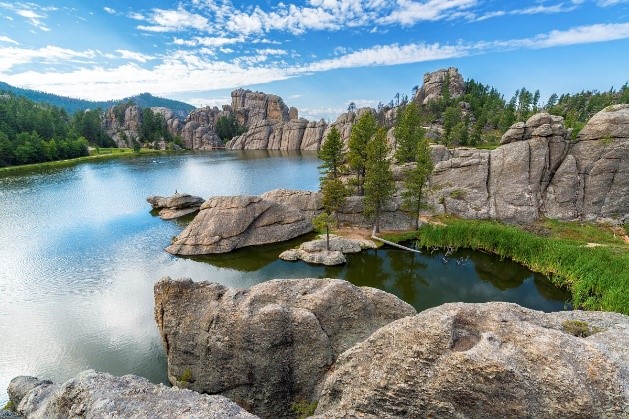 There are many beautiful places to go hiking in the Black Hills, but one of the favorites is Sylvan Lake. One of the reasons the area is so popular is because Sylvan Lake offers more than just hiking in the Black Hills. With a picnic area, paddle boats for rent, fishing, and rock climbing, Sylvan Lake is a location in Custer State Park where you and your family could easily spend a few hours to an entire day.
Created in 1881 when Theodor Reder built a dam across Sunday Gulch, Sylvan lake has become known as the "crown jewel" of Custer State Park. In 1921, the unique lake was incorporated into the newly established Custer State Park. Sylvan Lake is probably the most recognizable of the five lakes in Custer State Park for a variety of reasons. The area lends itself to being photographed quite easily. Sylvan Lake was featured in Disney's "National Treasure 2: Book of Secrets." While the movie depicted the lake as being behind Mount Rushmore, this is actually not the case. Sylvan Lake actually sits about five miles southwest of Mount Rushmore. Even before it made its film debut, Sylvan Lake has been a popular attraction for weddings and events as one of the most scenic and beautiful areas in Custer State Park.
Activities
Hiking – Hiking in the Black Hills is one of the most relaxing and healthy activities you could possibly do. With trails to Black Elk Peak, Little Devils Tower, Lost Cabin Trail, Sunday Gulch, and more, it's easy to see why Sylvan Lake is a one-stop shop for enthusiasts looking for the right hiking trail in the Black Hills.
Swimming
– Sylvan Lake also contains a swimming beach for those who want to cool off for a little bit. Take some time with your friends and family and take a dip in Custer State Park's most famous lake!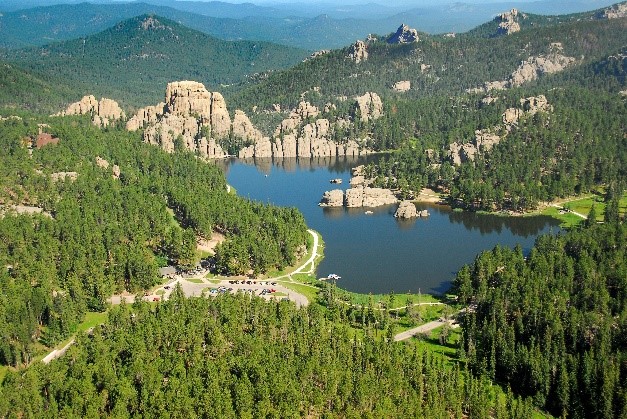 Fishing – Anyone with a valid South Dakota fishing license can go fishing along the shores of Sylvan Lake.
Boating – Sylvan Lake allows non-motorized boats on the lake, which means your canoes and kayaks can get to test out the waters of Custer State Park's "crown jewel." Custer State Park also allows you to rent paddle boats, canoes, and other watercraft rentals, so you and your family can enjoy a nice leisurely day out on the water.
Climbing – What many people don't know is how much bouldering can be done around the Sylvan Lake area. This area not only has a history like the Gil Boulder first climbed by the man himself John Gill but also has some challenging routes. Homestar (V11) was first done by Chuck Fryberger. The hardman route is King of Town (unrepeated) first ascent by Matt Tschol v13/v14.


Sylvan Lake has a rich history and is full of many great activities for you and your family. From hiking in the Black Hills to fishing and swimming, it's no wonder why Sylvan Lake is called the "crown jewel" of Custer State Park. Keep checking back to our blog, where we'll update you with some of the best and most notable Black Hills attractions for you and your family to make some great memories. Call us today at 1-800-321-0692 or
check availability on our website
to book your stay. Getting ready for a day out at Sylvan Lake or just returning from a long day out? Our restaurant is open daily, and we serve breakfast (7:00 am – 11:00 am), and dinner (4:00 pm – 9:00 pm). We feature prime rib nightly (while it lasts); an extensive selection of pastas, seafood and wild game; as well as a gluten sensitive menu. See you soon!
---
Last Modified: