– By #Powder House Lodge
Every year, people from all over come to Custer State Park for the annual Buffalo Roundup.
There's nothing quite like feeling the thunder beneath your feet as you see a massive herd of buffalo driven across the rangeland. Cowboys and cowgirls gather to drive the herd of buffalo in a spectacular site that also functions as a critical herd management tool. This year, the annual Buffalo Roundup in Custer State Park will take place on Friday, September 30, 2016 at 9:30 am.
Save
Save
How does the Buffalo Roundup help manage the herd?
The Buffalo Roundup is one of the last, great events to occur in the West that still can be witnessed today. Approximately 1,300 head of buffalo rumble and thunder by as Park personnel, cowboys, and cowgirls do their best to drive the Park's herd into the Buffalo Corrals. Along the way, they'll be passing two designated viewing areas. Remember: these are wild animals. However, if things go as planned, the entire herd passes by only a few hundred feet from the spectators. The annual Buffalo Round up in Custer State Park is the first step in preparing part of the herd for the November Buffalo Auction. After the herd is safely in the corrals, you can watch as park staff sort, brand, test, and select certain animals for the fall auction. The majority are returned right back into their home in the grasslands of Custer State Park.
The annual Buffalo Roundup is conducted to keep the bison population in check with the available grassland forage. Custer State Park's grassland can normally support about 1,000 animals over the winter. The surplus bison, usually about 300 animals, are sold at the auction each fall and winter. The revenues from the auction help support the day-to-day operations of the State Park System.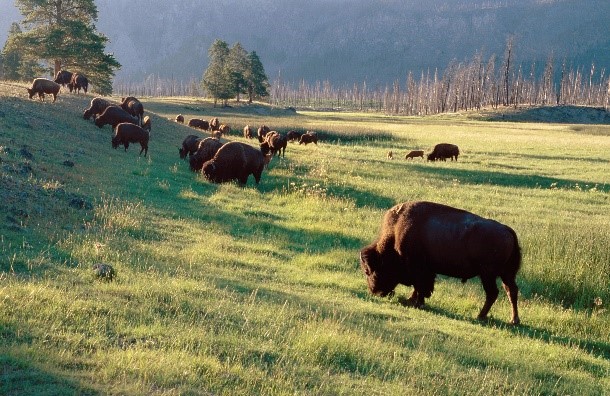 Custer State Park has conducted the roundup and auction for 50 years. Buyers from all over the United States and Canada have purchased bison from the Park and started herds of their own. The bison, which once faced extinction, now number about 500,000 and are found across North America.
Buffalo Round Viewing Areas
You will need to determine which viewing area you will be going to prior to Friday morning. Reservations not required; however, we suggest planning ahead for the big crowds. Lots open at 6:15 a.m. and close at 9:00 a.m. Reservations are not required. Handicap parking is provided in all areas; however, the Park does ask that you clearly display your handicap emblem. All vehicles will depart the way they entered.
Buffalo Roundup
The actual Buffalo Roundup will begin at 9:30 a.m. Guests must stay in the viewing areas until the herd is safely in the corrals, which generally happens around noon. After the Buffalo Roundup, free shuttle services are provided from the viewing areas into the corrals and back.
Buffalo Handling
Testing, branding, and sorting will begin at 1:00 p.m. until about 3:00 p.m.
WHAT TO BRING
Folding chairs
Cameras
Binoculars
Layered clothing
Rain gear
Water
Snacks
Sun screen.
Are There Other Activities?
You Bet! The 23RD Annual buffalo roundup Arts Festival will be taking place On The Grounds of The State Game Lodge Thursday, Sept. 29th - 10 a.m. to 5 p.m., Friday, Sept. 30th - 10 a.m. to 5 p.m. (Friday is Buffalo Roundup Day, Park Entrance License Not Required), and Saturday, October 1st - 9 a.m. to 4 p.m.
Join the crowd and enjoy three days of continuous entertainment along with numerous arts and crafts booths near the State Game Lodge. Visit with artisans and craftsmen from throughout the Midwest as they exhibit and sell their wares ranging from Native American to Western and South Dakota-made products. Or sit back and take in a variety of on-going entertainment. Hear cowboy poets yarn tall tales, share the beauty of Native American dancers or have a foot stompin' good time with some of the top musicians in the area. Be on the lookout for trick shooters or kick up your heels with cloggers and square dancers. Park entrance license required.
The 11th Annual Custer Stampede Buffalo Art Auction
Attend the most exciting art event in the region where you can buy your very own buffalo! The Custer Stampede Buffalo Art Auction features life-sized and table-top buffalo as well as a variety of free-form artwork, including paintings, sculpture and photography. All artwork is on display in Custer from mid-May through the end of September, then auctioned off under the Entertainment Tent at the Buffalo Roundup Arts Festival on Saturday, Oct. 1, 2016. Don't miss an opportunity to take home a one-of-a-kind piece of buffalo artwork!
The Buffalo Roundup in Custer State Park is truly a breathtaking experience and is fun for the whole family. Call us today at 1-800-321-0692 or
check availability on our website
to book your stay. Our restaurant is open daily, and we serve breakfast (7:00 am – 11:00 am) and dinner (4:00 pm – 9:00 pm). We feature prime rib nightly (while it lasts); an extensive selection of pastas, seafood and wild game (including buffalo); as well as a gluten sensitive menu. See you soon!
Save
Save
---
Last Modified: