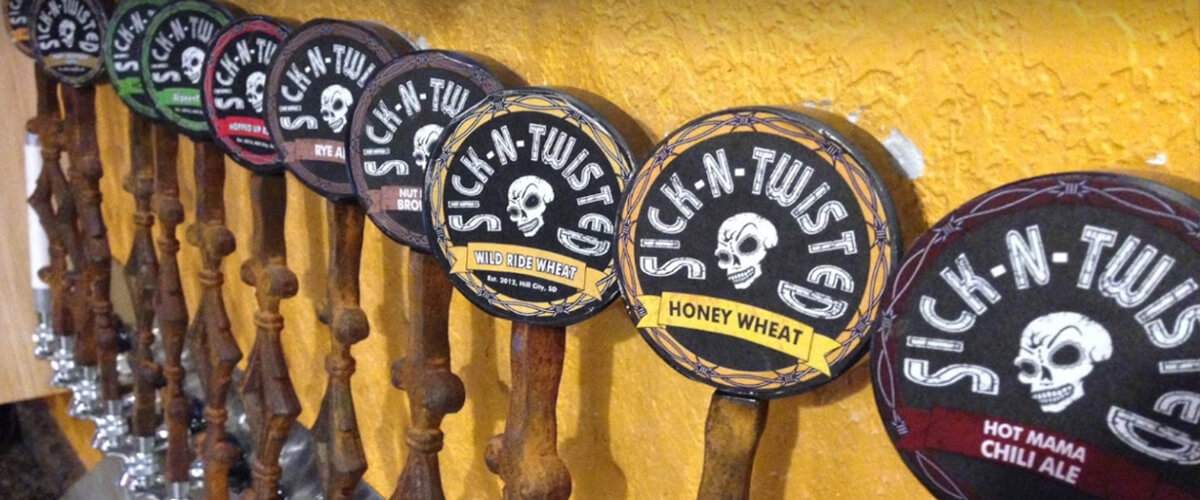 For a truly unique and rare glass of beer, travel just 15 minutes down the road from Powder House Lodge and stop by Sick-n-Twisted Brewing Company. This specialty craft beer brewery is located just off of Highway 385 in Hill City and offers guests a rare and unique experience. Playing off of the look and feel of the biker lifestyle so often seen in the Black Hills, Sick-n-Twisted is owned and operated by the same people who own Naked Winery, right next door. Their beer offers a distinctive taste and experience for craft beer connoisseurs.
Sick-n-Twisted was first brewed in 2012 and has been experimenting with different tastes and styles ever since. It is a homegrown business with brewers who are constantly learning and perfecting their technical experience. The brewers at Sick-n-Twister are constantly working to remain a small, local business, an independently operating business, and a traditional beer with unique flavors. There are regularly 14 different beers on tap at the craft brewery, ranging from hoppy and bitter to light and sweet.
Some of their more popular beers on tap include Buzz Light, Wild Ride Wheat, Aces & Eights, Naughty Red Head, Panty Dropper, Melons, Juicy Ginger, Sex on the Peach, Orange Crush, Nut Hugger, and Blue Beaver, to name a few. Many of their beers feature hints of citrus, hops, Chile, coffee, bourbon, honey, cloves, nuts, and caramel malts. Their beers are unique and can be enjoyed in a pint or in a flight, or taken back to your cabins in the Black Hills in a growler.
Sick-n-Twisted not only features their unique line of brews, but also has an excellent food menu, perfect for pairing with your favorite cream ale or amber beer. From stone-baked pizza to their gigantic pretzel, there is something for everyone, including sandwiches and soups, as well as ice cream for the kids in your family. No need to leave the kids in the cabins in the Black Hills; Sick-n-Twisted is family friendly with games and TVs to occupy the kiddos while you taste test and find your favorite new brew. They often have an event going on, paired perfectly with your beer. Some popular events include comedy shows, craft beer tastings, parties, and even Christmas caroling during the holidays.
866-355-7889
23851 Highway 385, Hill City, SD 57745
Locations and hours
23851 Highway 385
Hill City, SD 57745
Monday - Saturday: 10 a.m. - 8 p.m.
Sunday: 10 a.m. - 7 p.m.
430 Mt. Rushmore Road
Custer, SD 57730
Sunday - Wednesday: 12 p.m. - 8 p.m.
Friday and Saturday: 12 p.m. - 9 p.m.
Closed in the winter
804 Highway 16A
Keystone, SD 57751
Closed in the winter