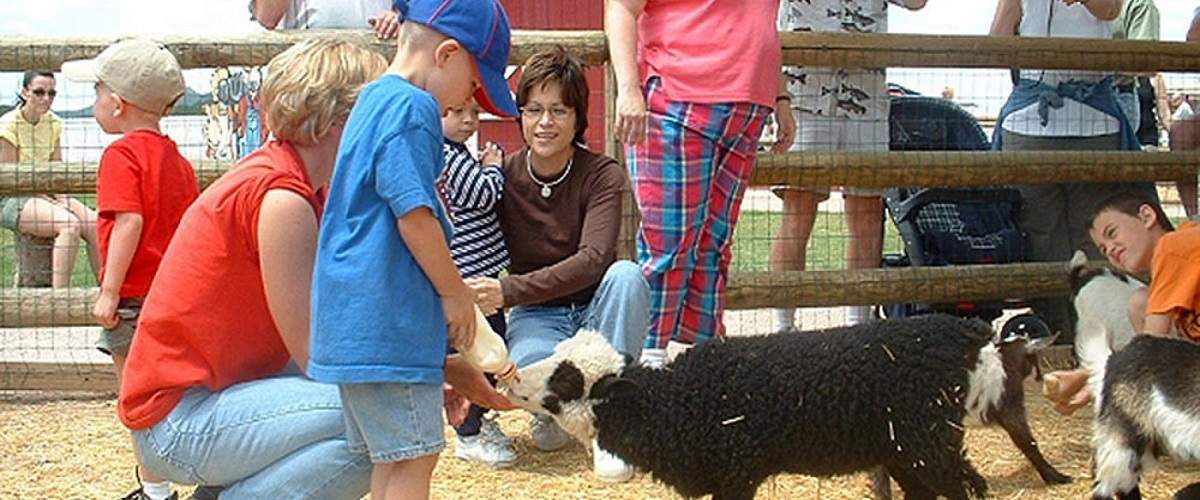 If you're looking for entertainment that will be sure to delight the little ones during your Black Hills vacation, look no further than Old MacDonald's Farm. The family fun park contains over 100 farm animals in a clean and safe environment that visitors can pet, feed and even ride. Better yet, the petting zoo is located only 10 minutes from the Powder House Lodge on US-16E, a route that leads to Rapid City and has many family-friendly attractions along the way, such as Bear Country, America's Founding Fathers Exhibit, and Reptile Gardens.
From horses to chickens, and plenty of farm animals in between, this family-owned and operated attraction allows you and your group a fun way to learn more about our barnyard pals. Feeding machines, where you can purchase food for fish, pigs, lambs and goats for only one quarter, are located on the premises. There are even opportunities to bottle feed some of the cute baby animals within the farm! Supplying food to the animals will prove to be a cheap way to keep your crew entertained and offers a chance to build lasting memories.
In addition to cuddling baby animals, Old MacDonald's Farm also provides pony rides for children under 100 pounds for only $3.00 a ride, as well as tours of the farm in a tractor train for the same price. Pig races are held daily, where you can cheer for your favorite hog while they dash through a gated course.
There's no need to end the fun come lunchtime – a picnic area is provided on site, along with an adjacent playground for the little ones to climb on while you rest your feet and enjoy a cold beverage. Bring along your picnic basket for a midday snack in a truly one-of-a-kind setting.
On you're on your way out after a fun-filled day, be sure to browse through the Old MacDonald gift shop, which features farm-related toys and souvenirs.
Add a visit to Old MacDonald's Farm for a fun and education stop during your family outing in the Black Hills!
Location and contact information:
Old MacDonald's Farm
23691 Busted Five Court
Rapid City SD 57702
605-737-4815
Admission rates:
Children: $10.50
Adults: $13.50
Seniors (65+): $11.50
Passes are good for 3 consecutive days
Season passes also available
605-737-4815
23691 Busted Five Court, Rapid City, SD 57702
Hours of Operation
Open 7 days a week Memorial Day – Labor Day
Memorial Day - Fathers Day: 9:00 a.m. – 6:00 p.m.
Father's Day – Labor Day: 9:00 a.m. – 7:00 p.m.
Last admission one hour before close