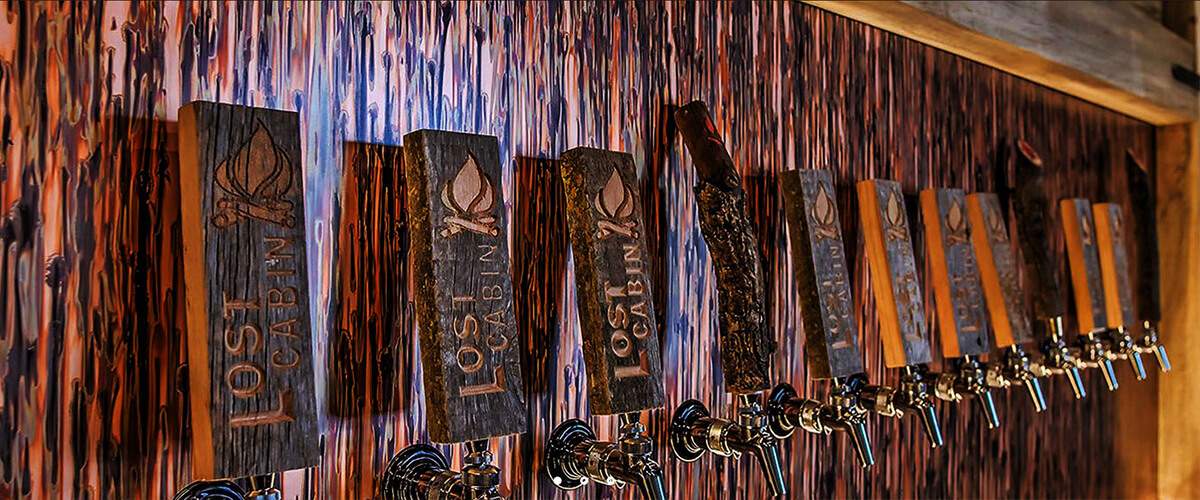 Lost Cabin Beer Company is one of Rapid City's newest breweries, having just opened on May 18, 2016. Within its first year, it has taken the Black Hills and Rapid City community by storm and has created a thriving following and fan base. Their cabin in the wood ambiance and local craft beer are located just a short 30 minute drive from the Powder House Lodge and is a must see stop on your Mt. Rushmore vacation.
Lost Cabin Beer Co. works hard to create small batches of ales and lagers that tap into the tastes and culture of the Black Hills. They are truly a small, local business, as they source many of their ingredients from local sources, including their hops. One of their more popular beers, the Smokewagon Coffee Stout, uses coffee beans from the local Pure Bean Roaster coffee shop, who also roasts their own coffee beans. Lost Cabin has truly tapped into the culture of the Black Hills in both their beer and ambiance within the tasting room. Other favorite beers include their Dakota Common, Buzzards Roost Black IPA, Father In Lager, Cranberry Saison, Turtle Creek Saison, Double IPA, West River Rye-PA, and Bruce banner APA.
The Lost Cabin Beer Co.'s tasting room looks like, you guessed it, a cabin in the woods. With their wooden boarded walls and lanterns hanging throughout the brewery, you would think you stepped into one of the cabins in the Black Hills. Their location, across the street from Founders Park, also adds to the ambiance. Guests are welcome to sit outside on the patio at picnic tables and take in the view of M Hill and the beautiful scenery that Founders Park offers.
While they do not offer any food, Lost Cabin Beer Co. continues their mission to be local friendly and dedicated by working with local food trucks and retailers to set up food at their tasting room on a regular basis. There are food trucks planned to be at the tasting room most days and when there is not a food truck, they work with local places such as Dakota Seafood to offer local food, such as fresh oysters. They also regularly feature local artists' work on their walls, all for sale as well. Beer and art: what more could you ask for?
They work hard to make sure they stay local, making them a great stop on your Mt. Rushmore vacation to get a true taste for what the culture is like in Rapid City and the surrounding Black Hills. The Powder House Lodge is a short drive away from not only Lost Cabin Beer Company, but a wide range of breweries and wineries, putting us at the center of the Black Hills.
705-718-5678
1401 W. Omaha Street, Suite 3, Rapid City, SD 57701
Hours of Operation
Tuesday - Thursday: 3-10 p.m.
Friday - Saturday: 12-11 p.m.
Sunday: 12-6 p.m.
Location
1401 W. Omaha Street, Suite 3
Rapid City, SD 57701