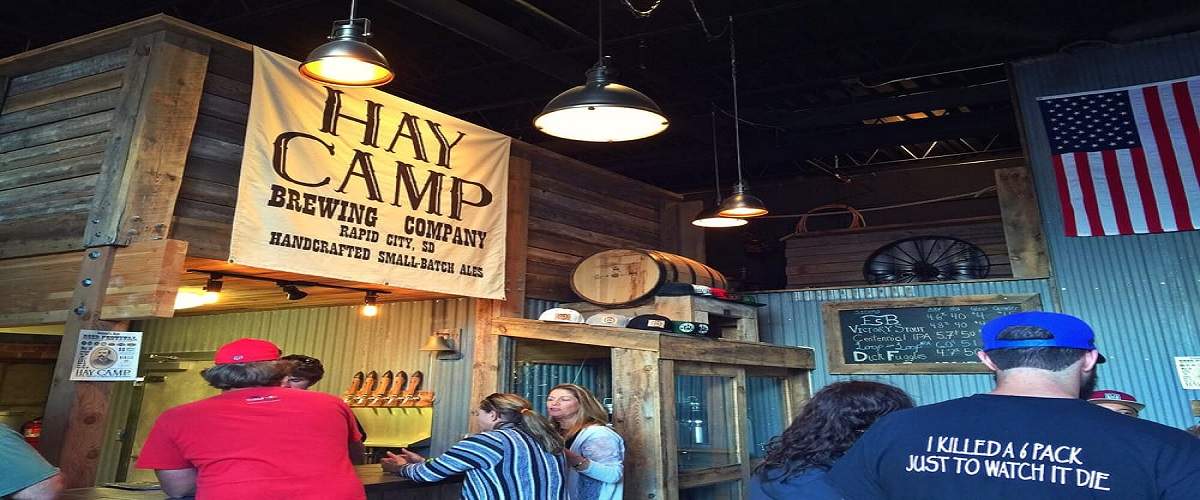 Brewed locally in the beautiful Black Hills and handcrafted to perfection, Hay Camp Brewing Company has quickly left an impression with the Rapid City beer-lovers. If you enjoy the culture of craft brewing and an interesting backstory about the original 1870s-era encampment, then Hay Camp Brewing Co. is an adventure that you cannot miss. Its unique tap menu features 10 diverse beers that are carefully selected and rotated for an optimal experience.
If you're looking for a bang for your buck, try the Cascadian Black Ale that has a unique bitterness that is balanced perfectly with rye and honey malt. The Extra Special Bitter certainly is extra special due to its strong caramel maltiness from English bitters. If you think you can handle that – test your sour boundaries with the Hay Stack Sour. The unique ale is brewed with the perfect balance of sweet and sour that will leave your mouth watering from the tarte flavor and apricot aroma.
Got hops? Try Hay Camp's Hopdlebar Maltstache double pale ale brewed with double hops, double malt, and is double dry-hopped in two stages, all perfectly aged for the hop-lover. The temptation is dangerous with Mothers Temptation IPA. This 7.1% ABV beer has a sweet pineapple scent and a delicious grapefruit citrus that will you persuade you to have another.
For someone who is not quite sure about the switch from draft to craft – the classic 3.2% ABV Bitter Warrior is a brew that will leave you pleasantly satisfied. Don't forget to try a fan favorite, the Victory Stout. The dry stout has a deep chocolaty taste with an unforgettable, overlying smokiness flavor.
The small, independent brewery was founded in August 2012. Owners and Rapid City natives, Karl Koth and Sam Papendick pride themselves on their passion for brewing. Although it is a younger brewing company, the Hay Camp Brewing Company has definitely made a name for itself. In just five short years, the brewery has expanded from a modest space that sat only 35 people, to a newly renovated 3,200 square foot taproom located in the heart of downtown Rapid City.
The beautiful location is only a 24 minute drive from the Powder House, and it is an affordable luxury that you do not want to miss. The Hay Camp Brewing Company's location is not only known for its elite ales, stouts, and IPAs, but also its unique building that is shared with a coffee shop. The Mothership brews locally roasted coffee beans, and also features local art throughout the shop.
The Hay Camp Brewing Company is a proud, independent local brewery that values quality over quantity. You will be pleasantly surprised by the welcoming staff, tavern atmosphere, and variety of beer selection. These beer guys definitely know their stuff.
605-718-1167
601 Kansas City Street, Rapid City, SD 57701
Hours of Operation
Monday – Wednesday: 3 p.m. – 10 p.m.
Thursday – Saturday: 12 p.m. – 10 p.m.
Sunday: 12 p.m. – 8 p.m.
Location
601 Kansas City Street
Rapid City, SD 57701