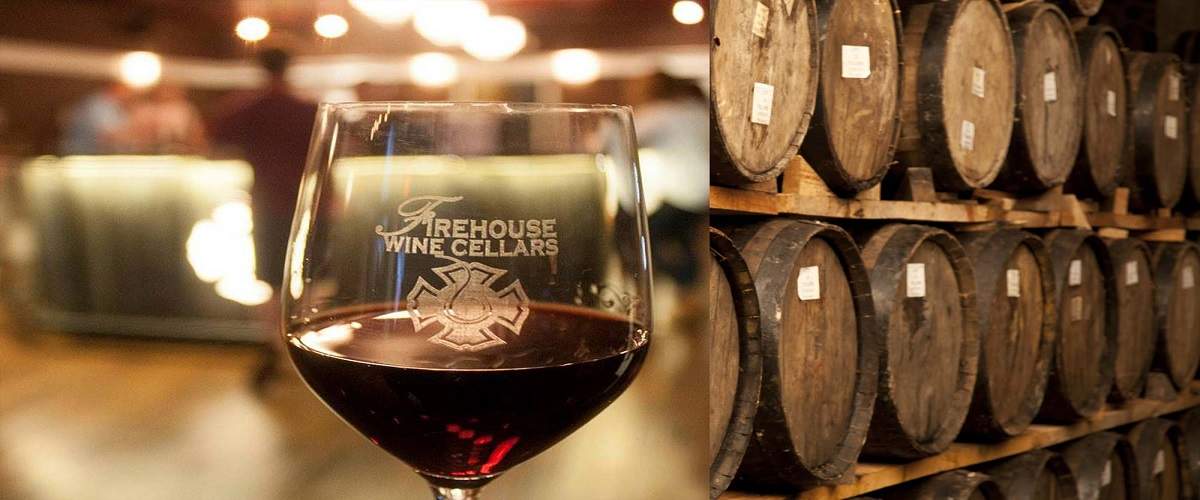 Satisfy your craving for full-bodied reds and refreshingly crisp whites during your South Dakota vacation at Firehouse Wine Cellars, located in historic downtown Rapid City. This Black Hills hotspot features a working winery, tasting room and a menu of delicious signature pizzas that are each expertly paired with Firehouse wines, all of which have been made on site. Even better, it is conveniently situated near some of the best shopping and entertainment that the area has to offer, making it a great pit stop to relax and find your new favorite wine.
Although Firehouse Wine Cellars opened their doors in 2014, their roots in the community run deep. The Firehouse building, which houses both Firehouse Wine Cellars and Firehouse Brewing Company, was built in 1915 and served as Rapid City's first firehouse. The facility still contains many remnants of the past, including fire poles and antique firefighting equipment that will transport you back to the building's bustling firehouse days.
The interesting setting of Firehouse makes it a great place to grab lunch or dinner, and each of the unique pizzas that comprise their menu have been matched with a wine by their in-house sommelier. Whether you choose the Gorgonzola Pear, enhanced with caramelized onion and a side of local honey, or The Carnivore, which is loaded up with pepperoni and bacon, you'll have a tasty meal with a wine to complement it perfectly.
If you're able to make it to Firehouse Wine Cellars on a Friday or Saturday evening, you can also enjoy free live music while you're sipping on your Cabernet or Sauvignon Blanc. Their weekly Cellar Sessions feature local musicians, giving you an even more in-depth taste of this region's culture.
Free guided tours are offered daily for those wanting to learn more about winemaking and the brewery process. No reservation is needed to take a tour; simply stop into Firehouse Wine Cellar at 4 p.m. or 8 p.m. when the trek begins. During the tour, you will be able to see the huge wine production area where over 20 varieties of wine are made and stored in the 24 stainless steel production tanks, each holding an astonishing 1,500 gallons of wine.
Is a trip to Rapid City not in your vacation plans? The Powder House Lodge wine menu also includes a couple of Firehouse's tasty wine options, or you can head over to Firehouse Wine Cellar's brand new tasting room, The Firehouse Smokejumper Station, located on Highway 385 near Hill City. There, you can sit on the patio overlooking Spring Creek while you savor a glass of wine and enjoy a selection of popular food items from their Rapid City menu. You don't have to go out of your way for a great Firehouse experience!
Check out the Cellar's website to view a list of their available wines, as well as their signature pizza menu. You can also purchase Firehouse merchandise and sign up for their wine club, which grants you access to exclusive members-only events and complimentary wine tastings for you and up to four friends.
Add this Black Hills winery to your vacation itinerary for an outing that will please your palate while giving you a peek into this area's past!
605-716-9463
620 Main Street, Rapid City, SD 57701
Hours of Operation
Monday – Thursday: 11:00 a.m. – 10:00 p.m.
Friday-Saturday: 11:00 a.m. – 11:00 p.m.
Sunday: 12:00 p.m. – 9:00 p.m.
Firehouse Wine Cellars
620 Main Street
Rapid City, SD 57701
T | 605-716-9463
Firehouse Smokejumper Station
23858 US-385
Hill City, SD 57745
T | 605-574-2916