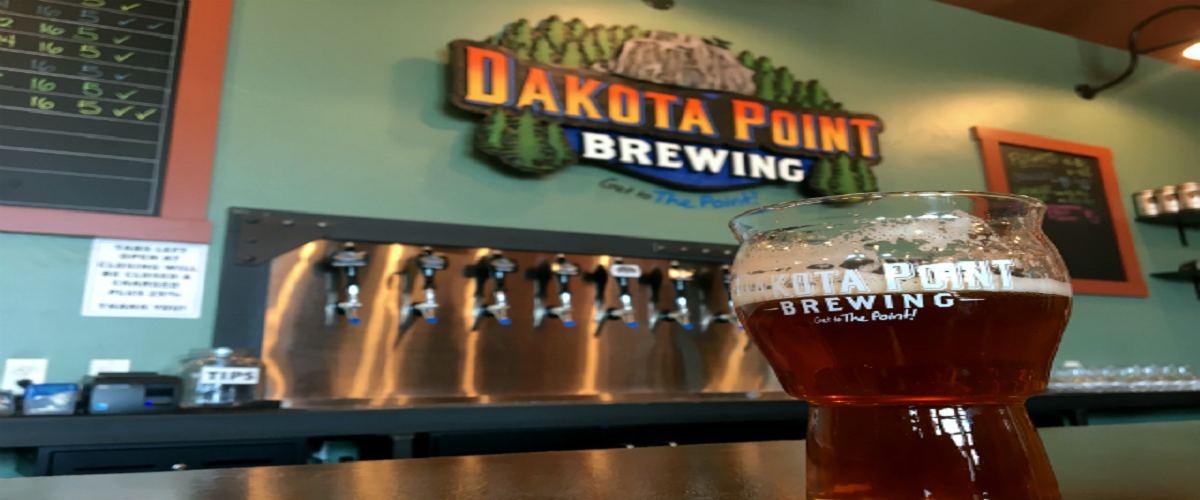 Dakota Point Brewing has been a local hotspot for craft beer since 2018, but the spirit of this independent venture dates way back to the 1970's. Located on the northeastern corner of Sheridan Lake, Dakota Point was one of several party locations in the Black Hills where people would get together around a bonfire, blast some of the best music of the era on car stereos and drink beer. Fast forward to today, and that feeling of freedom and merriment was the inspiration that opened up Dakota Point Brewing, one of the area's craft breweries that has been steadily gaining popularity since its opening.
Situated on the southeast corner of the Gap in Rapid City, Dakota Point Brewing has an expansive taproom saturated with the industrial feel of the building's history, with exposed ductwork and brick walls. Their patio area offers the perfect area for lounging, with the proximity to the building shielding patrons from both wind and sun alike and allowing for a comfortable and enjoyable experience. Their blissful setting is fitting, given their reputation for exceptionally tasty beers.
One reason Dakota Point Brewing has rightfully gained this reputation is that every one of their brews is crafted in-house, without any syrups. Their menu is known to change and features tasty, fun options such as Riley's Irish Red, a red ale known for its sweet tones of caramel and toffee, and Jean Quad Van Damme, a Belgian Quad that is sure to kick. What also sets Dakota Point Brewing apart is the inclusion of cask ales on their menu. These ales are naturally carbonated and served at 48° direct from the cask instead of 38°, which gives the ale a dense, creamy head of foam and allows your taste buds to experience the full flavor of the beer.
It'll be hard to pick your favorite brew, but when you do, you can take one with you in one of Dakota Point's 32oz crowlers – cans that are sealed right after the beer is freshly poured. These cans will last for several months when properly stored, which makes for a perfect way to look back and reminisce about your visit to the Black Hills.
Located about 25 minutes from Powder House Lodge, Dakota Point Brewing is within proximity to a myriad of other destinations, such as M Hill's many hiking trails, Founder's Park, Rapid City's bike path and the many businesses in The Gap. They are a slice of what makes our area so special – the locally owned and operated businesses that give the Black Hills its distinct personality.
605-791-2739
405 Canal Street Suite 1200 Rapid City, South Dakota 57701
Hours of Operation
Tuesday - Thursday: 3pm – 10pm
Friday and Saturday: Noon - 11pm
Sunday: 2pm – 8pm
Contact Information
405 Canal Street Suite 1200
Rapid City, South Dakota
(605) 791-2739