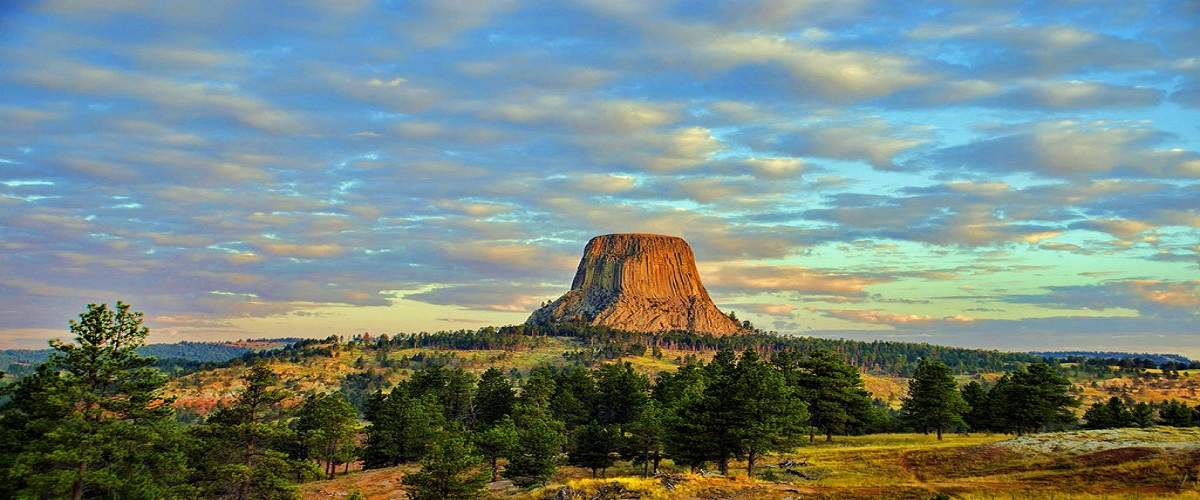 Declared as the first national monument by Theodore Roosevelt in 1906, Devils Tower is well worth the two hour drive from the Powder House for anyone who has not yet witnessed the awe-inspiring monolith in person. Devils Tower is located in northeast Wyoming, in a part of the Black Hills called the Bear Lodge Mountains. Around half a million people stop by the landmark each year to not only revel in its enormity, but also to hike on Devils Tower's five hiking trails or utilize one of the 150 climbing routes. Whether you are an outdoor enthusiast or just enjoy taking in incredible landscapes, plan to spend some time at this Black Hills attraction on your next visit.
While the exact way Devils Tower was formed is still a mystery among geologists, it is believed to have been formed when magma and lava created a large mass of igneous rock that forced its way through the sedimentary rock bed to the surface, creating what is called a laccolith. The structure is as tall as four football fields, with the summit reaching 5,112 feet above sea level.
Access to Devils Tower is open 24/7, year round. The park is bustling during the summer months, with 80% of the yearly visitors going to see the monument between Memorial Day and Labor Day. Ranger-led programs are offered during the summer months, giving guests the chance to learn more about Devils Tower and the surrounding area. A visitor center and bookstore are open all year, with hours varying seasonally. A carload of people can enter the park for only $15, making Devils Tower an affordable day trip for your family.
While pets are allowed in the picnic center and visitor center parking lot as long as they are on a leash, pets are not allowed on the monument itself, so please plan accordingly if hiking or climbing is on your to-do list for your visit.
There are six Northern Plains tribes who consider Devils Tower and the surrounding area sacred, with ceremonies held on the Tower throughout the year. Small bundles of cloth, which are Native American prayer clothes, can also be seen along the path, and should not be moved or disturbed. To promote understanding and respect of Native American culture, a voluntary climbing closure has been enacted for the month of June, with the park asking guests to refrain from climbing on Devils Tower during that time.
Each of the five hiking trails offers a unique and brilliant view of Devils Tower and the surrounding Belle Fourche River Valley. The most often hiked trail at the park is the Tower Trail, a 1.3 mile hike along a paved path, with benches along the way so you can take a rest and admire the spectacular views of Devils Tower. The Joyner Ridge Trail is less traveled and a little more difficult, but provides some of the best scenery of any of the trails, and has particularly breathtaking views around sunset. While the trails are mostly easy to hike with marked junctions, it is recommended to bring your own map. As with any hiking excursion, it is also advised to bring along plenty of water, some snacks, and a first aid kit.
Rock climbing is another popular activity to take part in at Devils Tower. While anyone is free to climb the monument, registration is mandatory before you can begin your ascent. Registration is free, and is easy to do at the kiosk in the parking lot, the visitor center, or at the administration building. Large, parallel cracks divide the Devils Tower into large hexagonal columns, enabling climbers to use the cracks to aid in ascending the monument. Some cracks are small, and some are large enough to fit a person inside. Since most of the climbing routes at Devils Tower are not bolt protected, temporary anchors are required for your trek. Also, if you do plan to climb Devils Tower during your stay, please keep the annual June voluntary climbing closure in mind, and plan your trip accordingly.
On your next stay at the Powder House Lodge, make sure to add Devils Tower National Monument to your list of fun and exciting things to do. It is a one of a kind experience that the whole family is sure to enjoy.
(307) 467-5283 x635
340 WY-110, Devils Tower, WY 82714
Hours of Operation
Devil's Tower is open 24 hours a day, 7 days a week.

Visitor Center and Devils Tower Natural History Association Bookstore Hours:
Monday - Sunday: 9 a.m. - 5 p.m.
Location
340 WY-110
Devils Tower, WY 82714