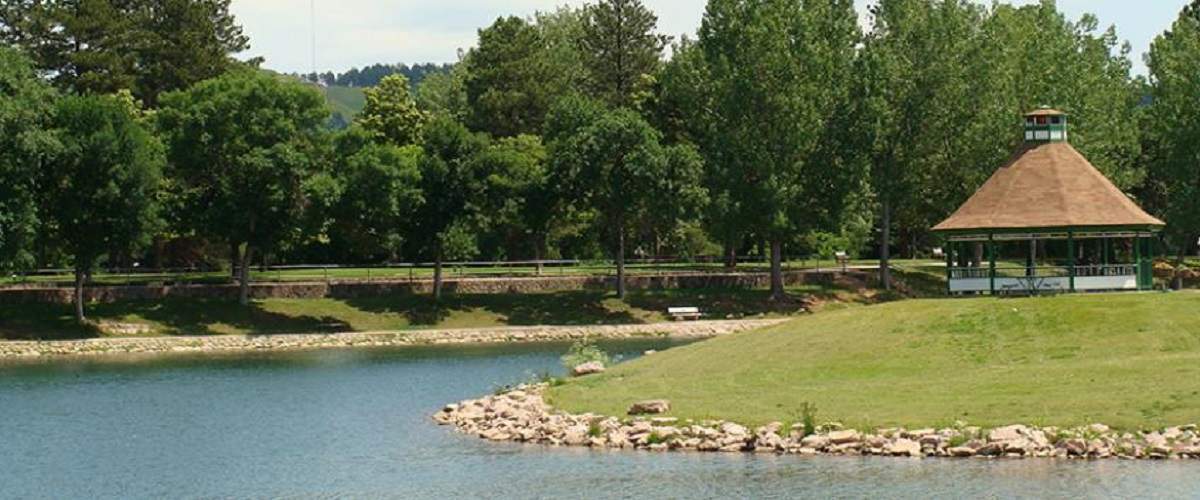 Sitting on 29 scenic acres in western Rapid City, Canyon Lake Park is the perfect escape for a variety of outdoor recreation for the entire family. Boasting multiple picnic areas that contain grills and tables, a sparkling lake in which to fish, and playgrounds on which to climb, a fun day is guaranteed to be had at this picturesque city park. From the Powder House Lodge, follow US-16E for only 25 minutes to reach this Black Hills family destination.
Entrance into Canyon Lake Park is free, and the public is welcome to enjoy the park and all its amenities from 6:00 a.m. – 10:00 p.m. Dogs are allowed at this city park, but must be kept on a leash.
Featuring a broad mix of activities, the park offers many opportunities to get in a workout or simply relax and bask in the sunshine. The route of the wide path that winds around the perimeter of the park leads those on foot and bicycle past bubbling brooks and large grassy areas that are ideal for an impromptu picnic. The walkway that directly surrounds the lake, as well as the bridge that extends out to the gazebo in the center of the water, are lined with lights and provide for a magical stroll after the sun goes down.
The play areas scattered throughout the park are equipped with winding slides, jungle gyms and swings that will keep the little ones entertained for hours. There are also plenty of wide-open grassy areas surrounding the playgrounds that allow for cartwheels, games of tag and tossing a ball around.
Whether you prefer to use a spinning rod or like to fly-fish, Canyon Lake provides great angling right in city limits. Cast a line off of one of the wooden piers that surround the lake, or head below the bridge on the west side of the park to try your hand at catching the fish swimming through Rapid Creek's clear waters. There's always a chance to catch one of the area's most abundant species of fish, trout, during a fishing trip at the park.
Boating is another popular activity at the bustling Canyon Lake Park. Kayaking and canoeing are great ways to explore the lake, and a boat ramp is conveniently located on the premises. Paddleboats can also be rented from Canyon Lake Resort by calling 605-343-0234, and make for a memorable family experience.
If you're looking for a space to host a family get together or summer barbeque while you're in the area, look no further than Canyon Lake Park. The park is home to four picnic shelters, which can be acquired on a first come, first serve basis. Enjoy the convenience of an inexpensive outdoor venue that contains a grill, picnic tables, playground equipment and bathrooms. Shelters can be reserved from May 1 – September 30 by calling 605-394-4175.
Add Canyon Lake Park to your itinerary for an exciting outdoor expedition suited for all ages.
(605) 394-4175
4181 Jackson Boulevard, Rapid City, SD 57702
Park Hours
6:00 a.m. – 10:00 p.m.
Contact Information
Rapid City Parks and Recreation Department: (605) 394-4175
Canyon Lake Resort – Paddleboat Rental : (605) 343-0234