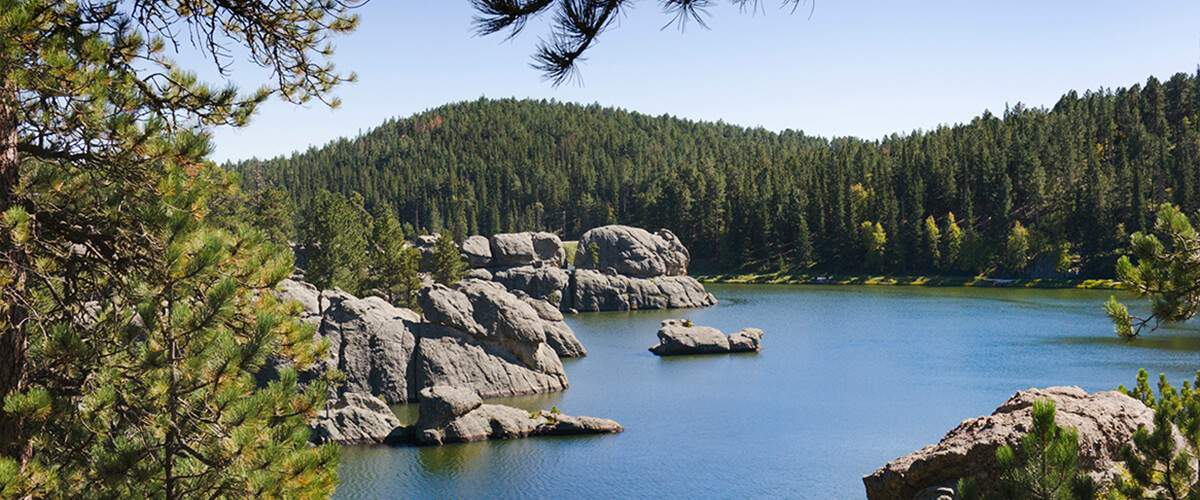 Of the five different lakes in Custer State Park, Sylvan Lake is probably the most recognizable. Nestled at the base of Black Elk Peak and encompassed by beautiful rock formations and pine trees, Sylvan Lake is one of the most picturesque spots in Custer State Park. Whether you and your family are just passing through on the Needles Highway, or you're ready to spend an entire day at the lake, it's definitely something that will excite the outdoors enthusiast. For anyone who has seen and experienced the amount of activities at Sylvan Lake, it's definitely a favorite. The location was featured in the Nicolas Cage movie "National Treasure 2: Book of Secrets." The lake, however, is located approximately 5 miles south of Mt. Rushmore and not at the top of Mt. Rushmore. Sylvan Lake has become a popular spot for weddings, special events, or just the perfect place to spend a relaxing afternoon.
Before Custer State Park was even established, Sylvan Lake has been one of the most popular spots in the area. From a general store to amazing hiking trails, paddle boat rentals, and more there's a reason Sylvan Lake is considered the "crown jewel" of Custer State Park. Fishing is allowed in any one of Custer State Park's lakes with a valid South Dakota fishing license.
Sylvan Lake was created in 1881 when Theodore Reder built a dam across Sunday Gulch. By 1921, the popular lake had become a part of the newly-created Custer State Park. With multiple hiking trails, rock climbing opportunities, swimming, fishing, boating, and so much more, spending a day at Sylvan Lake in the middle of the Black Hills is a must for any outdoors enthusiast.
Sylvan Lake, South Dakota
Fees
A temporary (1-7 days) license is $20 per vehicle and $10 per motorcycle. An annual park entrance license is $30 and you can buy a second annual park entrance license for $15.
Sylvan Lake is the starting point for many different hiking trails in Custer State Park. From Sylvan Lake, visitors can reach Black Elk Peak, Little Devils Tower, Sunday Gulch, the Sylvan Lake Loop, Lost Cabin, and many more.
Because Sylvan Lake is part of Custer State Park, there is an entrance fee to access the lake.