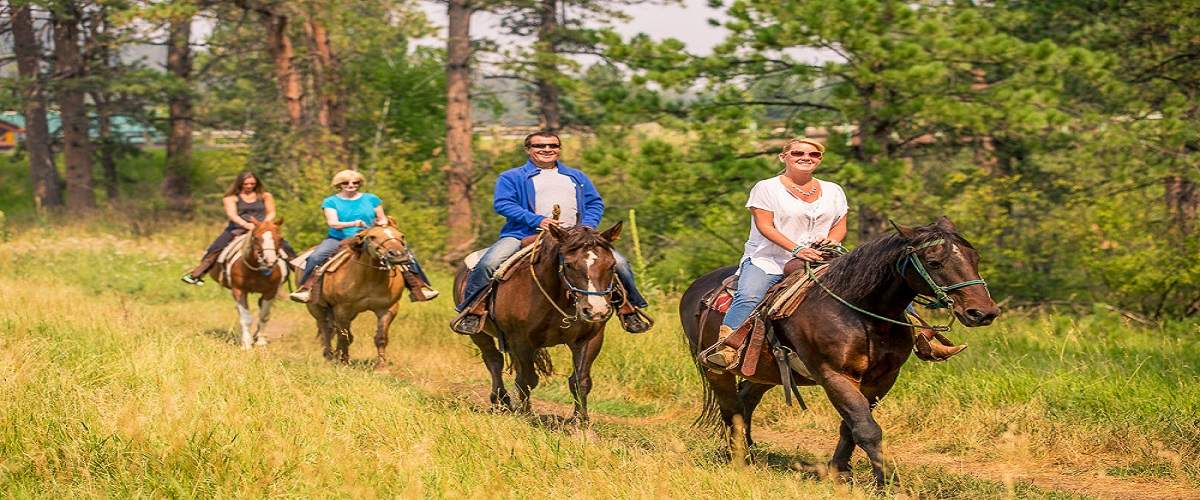 Saddle up and experience western South Dakota in a way fitting of the Wild West spirit of the area – by horseback. Your family will enjoy the convenience of having a knowledgeable guide on hand to take you to scenic locations throughout the region that are not accessible by car, as well as partake in bonding time over a relaxing and fun activity. There are many riding tours to meet a variety of needs, and we're here to point you in right direction so you can take part in the perfect Black Hills horseback riding expedition for you during your stay at the Powder House Lodge.
The Stables at Palmer Gulch
As the only barn in the Norbeck Wildlife Preserve to hold a riding permit, The Stables at Palmer Gulch provides horseback rides where you can take in one-of-a-kind, breathtaking views of Deadwood, Custer and Keystone. For families with younger children, kid-friendly tours are available for those as young as six. In addition to travelling by horseback, the wildlife sanctuary offers horse-drawn wagon rides and authentic chuck wagon dinners featuring a cowboy music show and a hearty meal of steaks and Dutch oven sides. The dinner show has scheduled tours in June, July and August with spots filling up fast, so reservations are recommended.
Reservations can be made by calling: (605) 574-3412 or online at www.ridesouthdakota.com
The Stables at Palmer Gulch
Mount Rushmore KOA
12620 Hwy 244
Hill City, SD 57745
Circle B Chuckwagon Show
For an experience right out of the Wild West, head to Circle B Ranch, located in Hill City. Featuring a variety of activities to partake in before you enjoy an authentic chuckwagon dinner, it is an attraction that will entertain the entire family. For the little ones, pony rides are available for only $4 a ride. Young and old alike will get a kick out of shooting targets with an authentic Colt 45 with wax bullets. Pan for rose quartz, turquoise, amethyst and garnet in their Gem panning trough, where the challenge is "Can you find enough to pay for your supper tonight?" Stop by and chat with Circle B's resident master woodcarver, Doug Ladd, who comes from Arizona each summer to show guests how to carve buffalo and other animals.
Right before dinner, Juan the Biscuit Bandit appears and steals some of the night's meal and the kids are rounded up to apprehend the thief, bringing the fun into the dining room. Feast on a hearty meal of roast beef, barbeque chicken, baked potatoes, cowboy beans and more before being dazzled with an old-style western music and humor show.
Reservations can be made calling: 1-800-403-7358 (Toll-Free) or online at www.circle-b-ranch.com
Circle B Chuckwagon
12138 Ray Smith Drive
Hill City, SD 57745
Rockin' R Trail Rides
Based out of Custer, Rockin' R Trail Rides offers guided tours through the Buckhorn Range of the Black Hills National Forest from Memorial Day through September. Four riding options are available, with each varying in length and difficulty to accommodate novices through horseback riding experts. For children younger than six years of age, a corral is provided where they can take hand-led pony rides. It is advised that you make a reservation for your adventure, although walk-ins are accepted based on availability. Browse their tour packages at www.rockingrtrailrides.com and book your visit today.
Reservations can be made by calling (520) 349-6078.
Rockin' R Trail Rides
P.O. Box 815
Custer, SD 57730
Hollingsworth Rides
Open year-round, Hollingsworth Rides give you the opportunity to journey on a trail personalized just for you and your group. Tours for up to eight participants are given at a time, with each journey consisting of only the guide and the members of your party. Rates are charged by hour, with each subsequent hour amounting to a lower rate. Visit them online at www.hollingsworthhorses.com to learn more about their services.
Reservations can be made by calling (605) 389-4130.
Hollingsworth Rides
Stagg Road
Custer, SD 57730
Blue Bell Lodge Stables
Explore the picturesque Custer State Park by horseback with trail rides led by the experienced guides at Blue Bell Lodge Stables. Choose between a one or two hour tour to fit in a bit of horseback riding fun in your day of sightseeing, or make a day of it with their half and full day trail jaunts that include lunch. Those too young to ride a horse alone (5 years of age for one hour rides, 7 years of age for two hour rides) can instead delight in pony rides back at the stables.
For questions about their services, or to book a reservation call (605) 255-4700.
Blue Bell Lodge Stables
25453 SD-87
Custer, SD 57730
Sage Meadow Ranch
Located in Hot Springs, Sage Meadow Ranch offers privately guided horseback riding tours through prairies and rolling hills. Four excursions are available: the Canyon Ride, which is ideal for first time riders and families with young children; the Ranch Ride, Sage Meadow's most popular option that takes travelers through varied terrain; their Half Day Ride, which is perfect for intermediate to advanced equestrians; and the Ranch Camp, which is a full day journey where lunch is provided. Visit their website at www.sagemeadowranchllc.com to learn more about their tours.
Reservations can be made by calling (605) 745-4866.
Sage Meadow Ranch
26840 Iron Shoe Trail
Hot Springs, SD 57747
Andy's Trail Rides
Leading guided horseback trail rides since the age of nine from his family's ranch in Waterloo, Iowa, Andy, along with his trusted guides, will escort you to secluded areas for one-of-a-kind views. Andy's Trail Rides also provides tours for hunting and fishing trips, as well as winter sleigh excursions in a two horse open sleigh. Learn more at www.andystrailrides.com.
Reservations can be made by calling (605) 645-2211.
Andy's Trail Rides
11264 Highway 14A
Lead, SD 57754
Before you go…
Remember to wear closed-toe shoes and long pants during your horseback riding excursion for your safety and comfort. Many of the above establishments provide helmets, but you may want to call ahead to ensure their availability, especially if you have young riders in your group.
Whether it will be your first time on a horse or you're an equestrian aficionado, you'll build memories to last a lifetime during your Black Hills equine adventure.
24125 Hwy 16A, Keystone, SD 57751
Interesting Facts about Horseback Riding:
Good riding posture will help with coordination, joint mobility and will strengthen the spine.
It is estimated that 15 million people around the world will ride a horse in the next 12 months.
Riding a horse for 45 minutes at a walking or trotting pace can burn up to 200 calories.