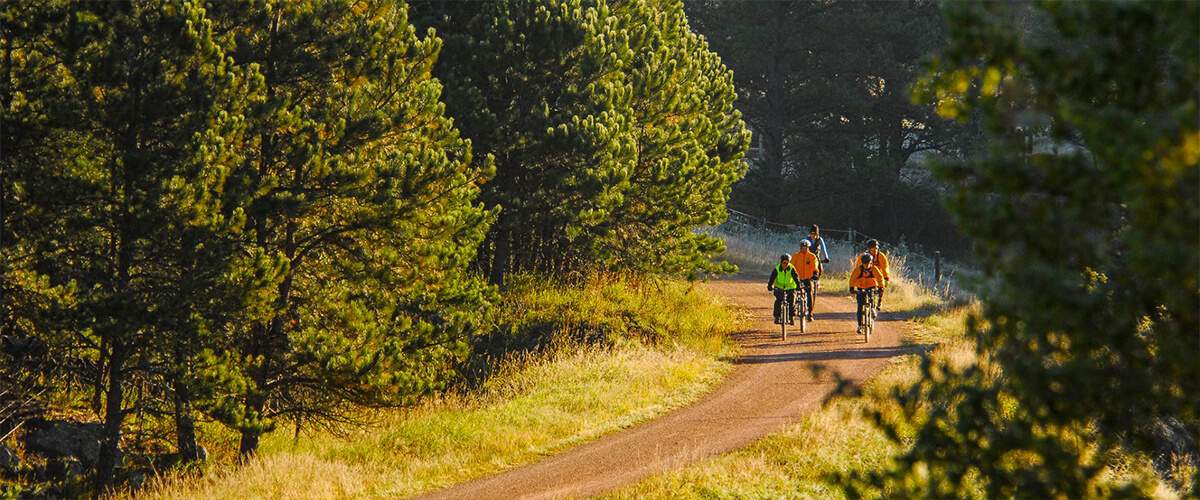 Stretching 109 miles of the Black Hills National Forest from Deadwood to Edgemont, the George S. Mickelson Trail has become known far and wide for high quality bicycling and a beautiful hiking experience. The George S. Mickelson Trail was originally the Burlington Northern rail line that took trains from Edgemont, SD to the northern Black Hills and the gold mines of the Deadwood area. The track was abandoned in 1983, and a group of outdoor enthusiasts recognized its potential of becoming a wilderness trail. With support of the then Governor Mickelson, it became the state's first rails to trails project.
In 1991, the first 6 miles of the trail were dedicated. After many years of hard work and collaboration between multiple state and federal agencies, the trail was completed in 1998. Approximately 100 of the old railroad trestles are still in place and have been restored. Four hard rock tunnels, blasted long ago through hillsides to complete the railway, have also been restored. While exploring the George S. Mickelson Trail, keep an eye out for the remains of old cabins and abandoned mines.
​Primarily comprising crushed limestone and gravel, the surface of the George S. Mickelson Trail is rated easy to moderate. The grades of the trail do not exceed 4 percent for the most part, but parts of the trail are considered strenuous. There are 15 trailheads, all of which offer parking, vault toilets, and tables. The trail itself is approximately 10 feet wide and those hiking or on a relaxing bicycle ride will see a full range of the Black Hills landscape. Wide open prairies, looming mountains, peaceful aspen lined creeks, quiet pine forests, and colorful high country meadows. Each of these ecosystems is incredibly diverse and, while much of the wildlife in the Black Hills National Forest crosses between each of these delicate ecosystems, you're sure to see something unique to each area.
From biking and hiking to horseback riding or cross-country skiing, the George S. Mickelson trail is a wilderness trek that showcases so much of the Black Hills National Forest's beauty while staying close to towns and civilization.
605-584-3896
512 S Newton Ave, Hill City, South Dakota
Trail Information
Open: Year-round, from dawn to dusk
Length of Trail: 109 miles with 15 trailheads, from Edgemont to Deadwood
Trail surface: Packed gravel
Rated: Easy to moderate
Fees: Self-sale trail pass stations ($4Â daily or $15 annual)
A few rules to remember:
Dogs must be leashed.
Motorized vehicles are not allowed.
Smoking is prohibited.
Discharging a firearm from or across the trail is not allowed. The trail is closed from dusk to dawn.
Bicyclists must yield to pedestrians.
Horses have the ultimate right-of-way.