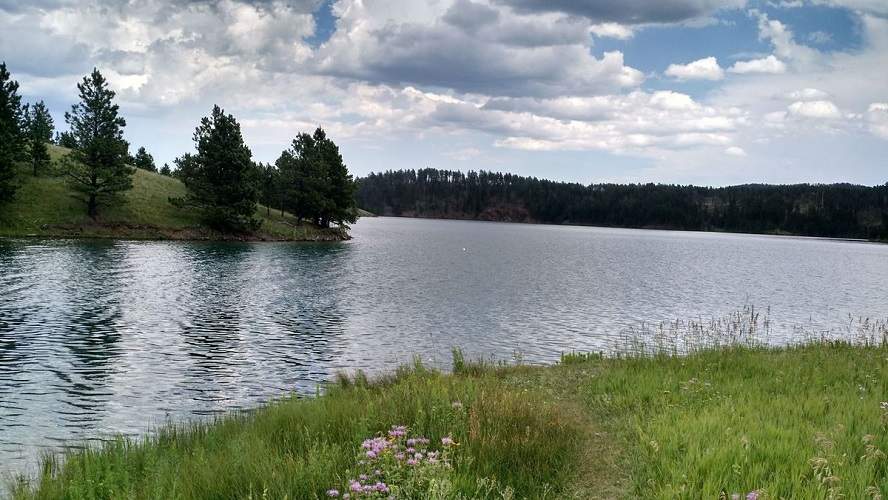 Deerfield Reservoir
No matter the time of year, Deerfield Reservoir provides a plethora of fun for an exciting day on the water. In the summer, the reservoir is abuzz with people finding ways to beat the heat; boating, swimming and hiking are just some of the popular warm weather activities at this Black Hills lake. Deerfield remains a hotspot for outdoor recreation during the frigid winter months as well, offering trails for snowmobiling, snowshoeing and cross-country skiing, as well as thick ice for skating or ice-fishing. Plan a visit to Deerfield during your next visit, located only 37 minutes west of the Powder House.
General Information
Deerfield Dam
Hill City, SD 57745
Recreation
Boating – Two boat launches available on site for motorized and non-motorized boats. NOTE: Deerfield Reservoir is a no-wake area where boat travel is limited to five miles per hour.
Cross-Country Skiing
Fishing – Brook, splake and rainbow trout available. Ice-fishing accessible during the winter. Castle Creek flows in and out of the reservoir and is a popular destination for fishing, especially for those who enjoy fly-fishing.
Hiking – The 10 mile Deerfield Lake Loop Trail circles the lake and is a fairly easy trail, while Deerfield Trail #40 provides an 18-mile easy to moderate trail that connects Deerfield to Rapid Creek and Pactola Reservoir. Make sure to pack plenty of water, as drinking water is not provided on the trails.
Ice-Skating
Mountain Biking
Snowmobiling
Snowshoeing
Amenities Offered
Camping – Three campgrounds on site offering both RV and tent camping sites.
Three Picnic Areas:

Dutchman Campground – southeast side of lake,
Lake Shore Picnic Area – southwest side of lake, along the shore, and
Mountain City Picnic Area – near Whitetail Campground, with excellent views of the lake.
Fun Facts
Deerfield Reservoir was originally built by the United States Bureau of Reclamation from 1942 to 1947. It was built at a height of 171 feet in order to store water for Pennington County.
The average depth is about 30 feet and deepest portions near the dam face are about 90 feet deep.
The reservoir has an average depth of 30 feet, with the deepest areas near the dam face reaching 90 feet deep.
Today, the dam supplements the water supply to Rapid City and Ellsworth Air Force Base.
Don't forget your fishing pole! Deerfield has been known to contain record sized brook trout, making for an amazing Black Hills fishing experience.
A visit to this Black Hills lake is a must any time of year for a relaxing day on the water. Add Deerfield Reservoir to your itinerary during your next stay at the Powder House Lodge!
Hours of Operation
Open Year-Round
Entrance Fees
Daily - $5 per vehicle
Annual - $20 per vehicle