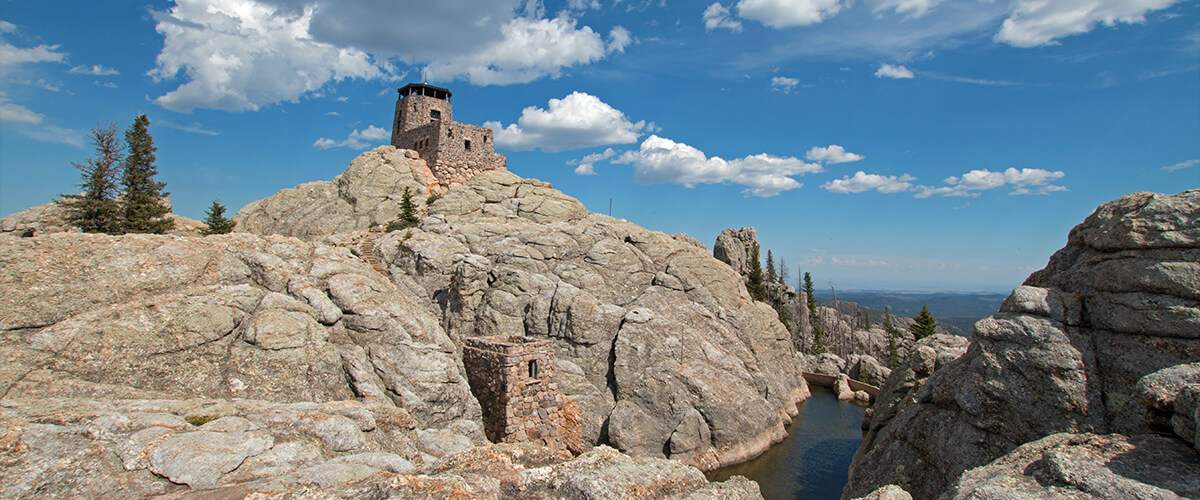 For over 150 years, the highest point in South Dakota known as Harney Peak. It was renamed in 2016 by the U.S. Board on Geographic Names on August 11. The change in namesake was to honor Nicholas Black Elk and to recognize the significance of the peak to Native Americans. At 7,242 feet, Black Elk Peak is the highest point in South Dakota and is also the highest point east of the Colorado Rockies.
Located adjacent to Sylvan Lake, the granite high point is sacred ground to Native Americans, especially the Sioux. It was atop this peak that a young Black Elk experienced a vision when he was merely nine years old. As he evolved into a respected elder and medicine man, he would recount his vision:
"I was standing on the highest mountain of them all, and round about beneath me was the whole hoop of the world," he is quoted as saying. "And while I stood there I saw more than I can tell and I understood more than I saw; for I was seeing in a sacred manner the shapes of all things in the spirit, and the shape of all shapes as they must live together like one being."
Black Elk Peak has served witness to a wide variety of historical events and people. General Custer famously attempted to ride his horse to the summit, but did not quite make it. Black Elk Peak was also considered to be the carving place of Mt. Rushmore. However, once Gutzon Borglum reached the summit and surveyed the area, he spotted what he felt was a better location, which is now where the carving resides.
Because of its high vantage point, the historic fire lookout tower was built by the Civilian Conservation Corps during the mid-1930s. The building material consisted of native stone that was hauled nearly four nearly four miles to the summit.
Black Elk Peak, is a natural, historical, and cultural treasure in the Black Hills National Forest. One of the most fascinating aspects about Black Elk Peak is the rich history behind the summit. Unfortunately much of the history behind Black Elk Peak remains unknown. Once visitors to the summit learn about the rich history and is spiritual significance, there's a newfound respect and admiration for Black Elk Peak.
Black Elk Peak Hiking Trail
Experience Black Elk Peak during your stay at the Powder House Lodge.
We're just minutes away from the many hiking trails in the Black Hills National Forest. We provide Custer State Park lodging at its finest in an area located close to all of your favorite Black Hills outdoor attractions.