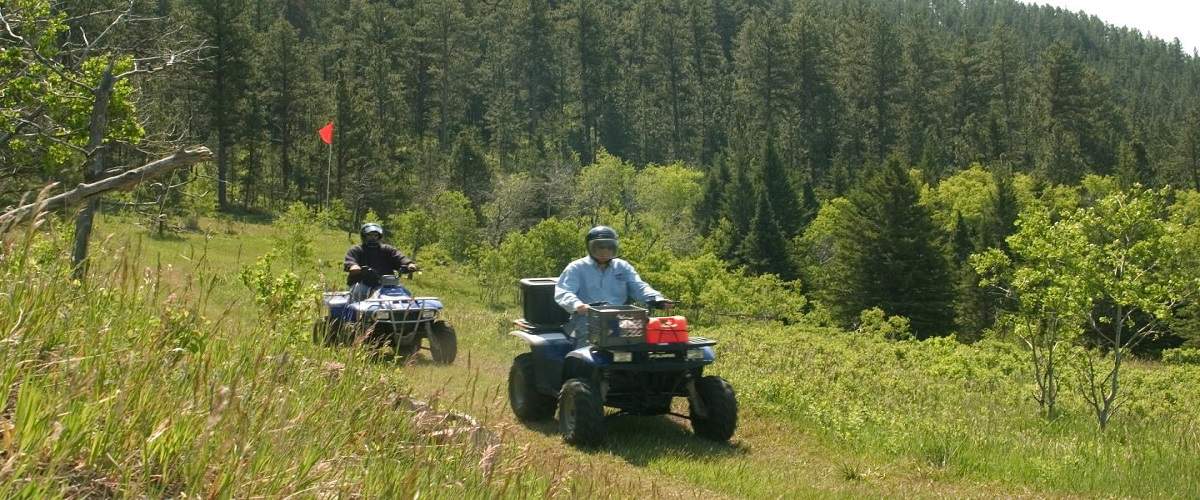 If veering off the beaten path, feeling the wind through your hair, and getting some mud on your jeans sounds like your idea of a good time, you'll love a day spent on an all-terrain vehicle (ATV) in the Black Hills. The magnificent scenic views and variety of trails make ATV riding in this area second to none, with trails winding through canyons, lakes, and awe-inspiring rock formations. There are over 600 miles of trails available for ATV use in the area, making for plenty of areas to have your next off-road adventure.
There are a few things to keep in mind while preparing for your exciting day of off-roading in the Black Hills. First, make sure you stay on designated ATV trails during your adventure by taking a look at the current Black Hills Forest Service map before you head out, as well as printing out a copy to take with you on your excursion. And while there is no minimum age or driver's license required to operate ATVs off-road in designated areas, a driver's license and licensed ATV are required if you plan to take your ATV on-the-road as well; ATV use on interstates in South Dakota is prohibited. Next, easily acquire your Motorized Vehicle Use Trail permit , which is required to operate an ATV in the Black Hills National Forest and only costs $20 per week per vehicle, or $25 for an annual pass. Permits can also be purchased at the Hill City Chamber of Commerce Visitor Center or the Black Hills Information Center off of I-90 at exit 61.
Should you need some help finding ATV rentals to enjoy, check out Wilderness Edge ATV Rentals and everything they offer, from cabin rentals to ATV rentals for fun in the sun in the Black Hills.
There are 20 trailheads in the Black Hills National Forest which can be accessed by ATVs, with the trails varying in difficulty and length. The Merritt Trail System is a popular destination for ATV riders, offering 41 miles of trails that can be accessed by ATVs, jeeps, and motorcycles. The trails in the Merritt Trail System are located west of Highway 385 and north of Silver City Road and offers fantastic views of the central Black Hills. The northern Black Hills contain great opportunities for off-roading as well; the Spearfish Quarry Trailhead leads to trails that are ideal for those that are new to operating ATVs to practice their driving skills. If you're spending the day in the southern hills, the Bluebird and Richardson Trailheads provide access to 52 miles of ATV trails where you can take in jaw-dropping scenery.
Experiencing the Black Hills on an ATV is an experience that should not be missed and many trails are within just a short drive of the Powder House Lodge. Make sure to add a day of off-roading to your list of things to do the next time you're in the area.