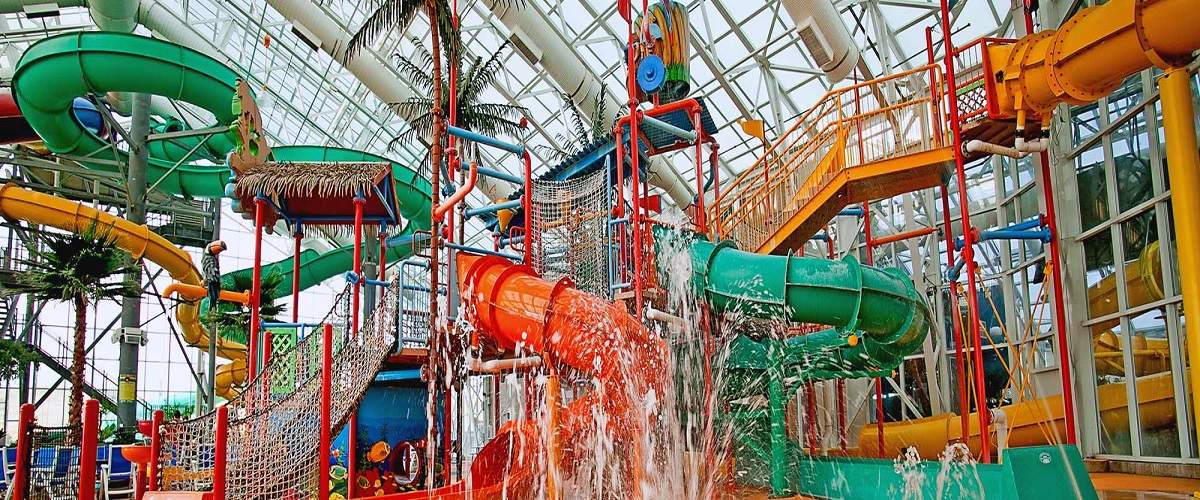 No matter what time of year you visit the Black Hills, you can enjoy the summer joys of zooming down a waterslide and relaxing poolside, all within a short thirty minute drive from the Powder House Lodge. Located right off I-90, east of Rapid City, WaTiki Waterpark boasts high ceilings and over 30,000 square feet of space so all of the outdoor entertainment can be brought inside. The tropical themed park contains pool activities and games for people of all ages, as well as an arcade and dining options. If you crave a day of frolicking in the waves, add a visit to WaTiki Waterpark to your itinerary during your stay.
No matter your situation, you're sure to have a blast at WaTiki. For those with young children, the Rapid City water park provides Koko's Kingdom, a place for kids to splash and play on equipment that is suited just for them, as well as three mini-slides to coast down. Older kids and adults will have a blast zipping down the park's three huge colorful waterslides on tubes, which all lead down to the park's Lazy River. Everyone will love lounging in the activity pool, where you can shoot some hoops with your friends at the basketball rings or leap across the pool's lily pads. If you're feeling low-key, take a relaxing dip in the Oasis Hot Tub and let your stresses melt away. Whatever your plans for the day include, make sure to slather on waterproof sunscreen throughout the day; although you're indoors, WaTiki's transparent roof makes sunburns possible.
There's no need to pack up and end the fun come lunchtime. Sliders Bar and Grill is located inside of the Rapid City water park, where you can order some hot wings, sip on an ice-cold beer or specialty cocktail, and watch a sports game on the ten-foot-tall video wall. A large waterslide runs through the sports bar and provides an interesting, unique backdrop while you dine. Marcos and Starbucks are also available on site to make sure your pizza and coffee cravings remain quenched.
After satisfying your hunger, heed your mother's advice about waiting thirty minutes before swimming and take a trek upstairs to the park's arcade. Forty classic and modern games are available to try your hand at, where you can win tickets to redeem for prizes. Indulge your competitive side by challenging your friends to a round of skee-ball or air hockey. For the perfect souvenir to remind you of your eventful day, try your hand at the arcade's claw cranes. At the WaTiki Waterpark, the excitement doesn't end once you leave the water.
The young, and young at heart, will enjoy a carefree day of fun at WaTiki. Check out this Rapid City water park during your next visit to the beautiful Black Hills.
605-718-2445
1314 N Elk Vale Rd, Rapid City, SD 57703
Hours of Operation
Monday - Thursday: 4 - 9 p.m.
Friday: 4 - 10 p.m.
Saturday: 8 a.m. - 10 p.m.
Sunday: 8 a.m. - 8 p.m.
Location
1314 N Elk Vale Road
Rapid City, SD 57703