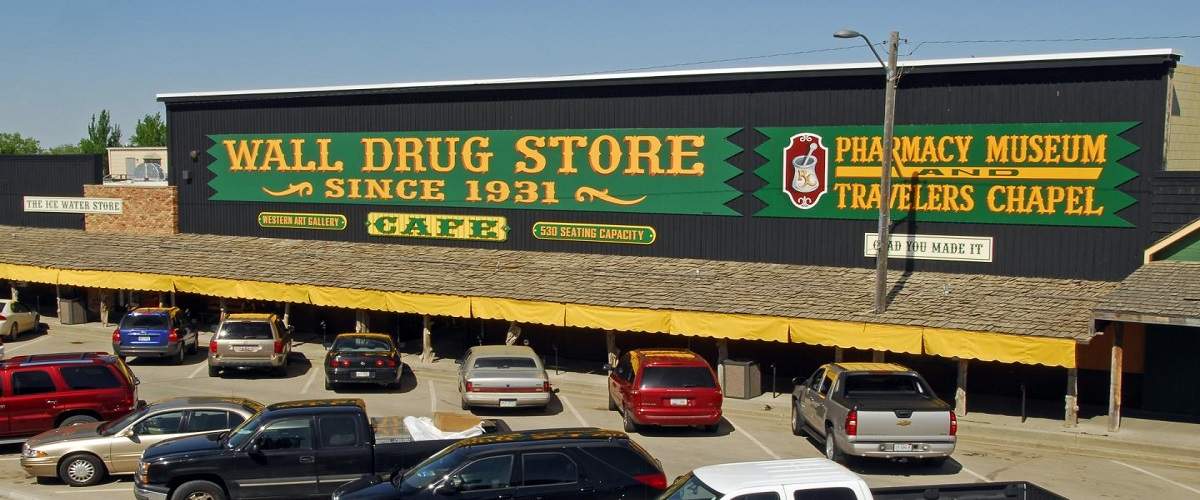 What once started as a struggling drug store in the middle of nowhere has developed into a widely known attraction that draws in over two million people each year who are looking for fun, entertainment and tasty food during their journey across South Dakota. But no matter how successful Wall Drug has gotten, they have still managed to maintain their Western appeal, hometown charm and promises of free ice water that initially drew people in. Make sure to stop and check out this beloved attraction for shopping, dining and leisure the next time you're driving along I-90!
In 1936, Wall Drug owner Ted Hustead's wife, Dorothy, came up with the clever idea of putting up signs along the interstate proclaiming an offer of free ice cold water in an attempt to draw more traffic into their pharmacy. Much to their surprise, the signs brought in a flood of passersby looking for refreshment, many of whom also ended up purchasing items from the shop. Soon, Wall Drug became a popular stop for those traveling through South Dakota, and fans of the drug store, including World War II soldiers, helped spread the word by erecting signs in far off destinations such as London and Morocco.
Over the years, Wall Drug has transformed into a hotspot that offers much more than ice cold water. The Wall Drug Mall, which boasts 50,000 square feet of sales space, carries a wide variety of regional items and road trip necessities, from quality Western apparel and art to batteries and snacks. The mall also contains The Hole in the Wall Bookstore, which offers plenty of reading material for your vacation, as well as Calamity Jane's Jewelry Emporium, where you can pick up a beautiful trinket that will remind you of your visit to the Mount Rushmore State.

Wall Drug's Backyard is sure to be a hit with the little ones in your family. The Train Station Water Show presents the perfect opportunity to cool off after a long day in the car, and the whole family will get a kick out of being able to pose with a T-Rex. For handmade toys and gems of all kinds, pay a visit to the Backyard's Little Britches Toy Emporium and Mining Company rock shop. And no trip is complete without letting the kids pan for gold and dig for treasure at one of the Backyard's three mines. The Backyard isn't just for kids, though; adults can sip on a gourmet coffee from the Picnic Parlor while looking through the 1,400 historical photos on display.
After taking part in all of the shopping and recreation that Wall Drug has to offer, satisfy your hunger at their on-site diner, the Western Art Gallery Restaurant. The eatery is home to the largest private Western art collection in the country, giving you plenty of interesting scenes to gaze at while you enjoy a home-style meal. Don't forget to pick up some of their famous homemade donuts that make a great treat for the road!
The next time you're approaching the small town of Wall, stop and stretch your legs by exploring all that Wall Drug has to offer. You'll quickly see how it has become one of the most well-known attractions in South Dakota!
605-279-2175
510 Main Street, Wall, SD 57709
Hours of Operation
Main Store – 7:00 a.m. – 9:00 p.m. Monday – Sunday
Café – 7:00 a.m. – 8:15 p.m. Monday – Sunday
Mall Shops – 7:30 a.m. – 8:30 p.m. Monday – Sunday
Pharmacy – 8:30 a.m. – 5:00 p.m. Monday - Friday
Wall Drug
510 Main Street
Wall, SD 57709
P | 605-279-2175