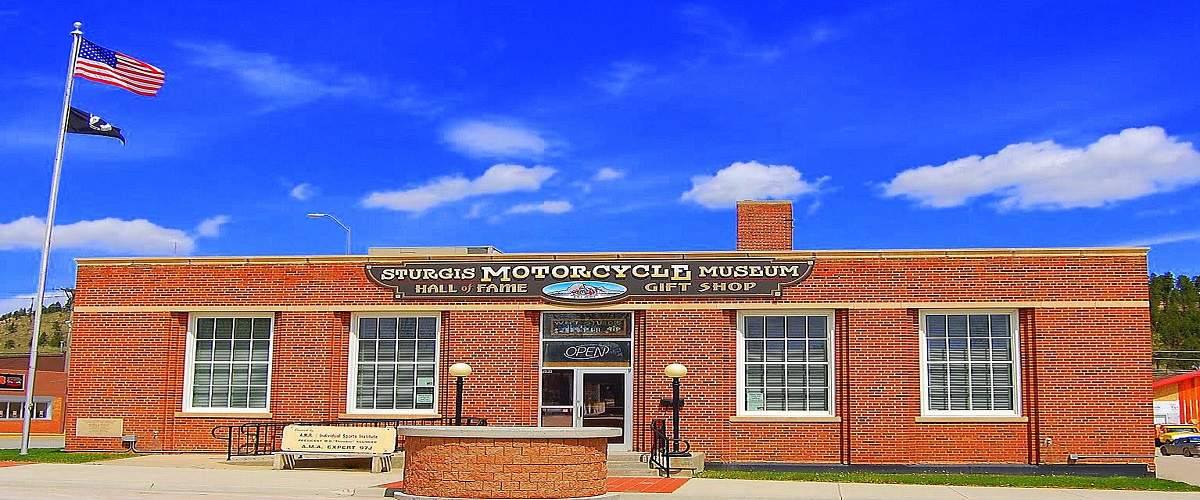 Each year, hundreds of thousands of bikers rev their engines and descend upon Sturgis for the Sturgis® Motorcycle Rally™. Located on Legendary Main Street in Sturgis is the Sturgis Motorcycle Museum & Hall of Fame, which features the history of motorcycling and the story of how the Sturgis® Motorcycle Rally™ was founded in 1940.
The Sturgis Motorcycle Museum & Hall of Fame opened its doors on June 1, 2001 and started their collection of vintage motorcycles with donations from local and national collectors. The museum was initially housed in an old church building and the owners of the church, Gene and Nancy Flagler, set the rent at $1.00 a month in order to help get the museum started. After only a year in business, the city offered them the old post office to help continue their growth and success, and it resides there still today. Doors opened on the new location in 2002 and by 2003 they had expanded to include the basement. The motorcycle collection is constantly changing and new information is added to the numerous exhibits that are on display throughout the building.
The Sturgis Motorcycle Museum & Hall of Fame features historical displays and also recognizes movers and shakers in the motorcycle industry each year by inducting new members into the Hall of Fame. Legends who have made a big difference in the motorcycle industry are inducted into the Hall of Fame at a breakfast held during the Sturgis® Motorcycle Rally™. Their stories are told and their contributions and accomplishments are showcased in an effort to honor their achievements and inspire the younger generation to continue on. The Hall of Fame is currently on display in the lower level of the museum and features photos, videos, and some of the vehicles that helped the inductees get started on their journey.
605-347-2001
999 Main Street, Sturgis, SD 57785
Hours of Operation
Monday – Saturday: 9 a.m. – 5 p.m.
Sunday: 10 a.m. – 4 p.m.
Sturgis Motorcycle Museum & Hall of Fame Admission
1 Person - $10 + tax
2 People - $15 + tax
3 People - $20 + tax
4 People - $25 + tax
5 People - $30 + tax