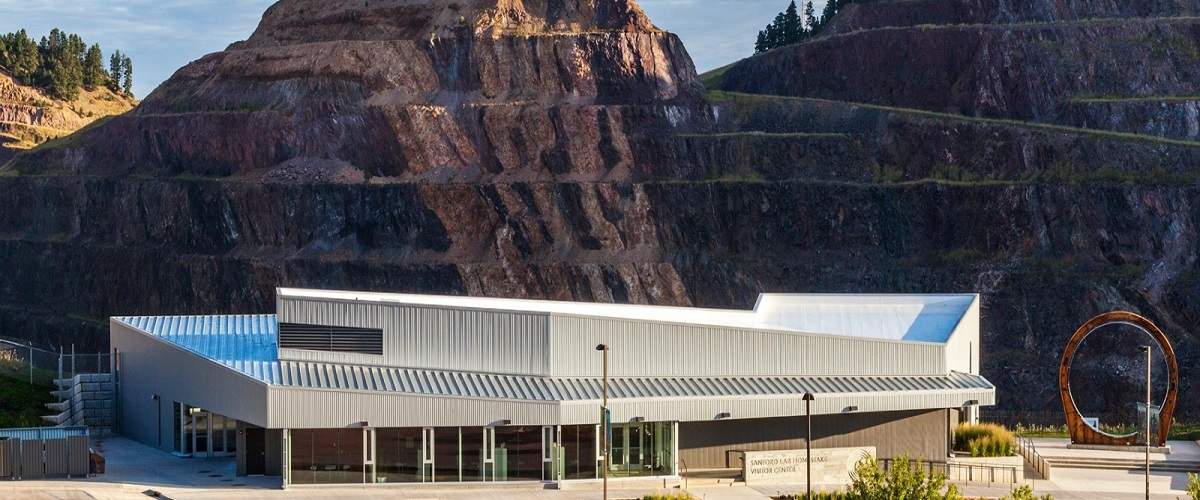 Experience the rich history of the Black Hills by paying a visit to the Sanford Lab Homestake Visitor Center during your stay at the Powder House Lodge. The center gives you a peek inside of the area's bustling mining past, with artifacts and stories telling the history of Homestake Mine, the largest mine in the western hemisphere and the current home of the Sanford Underground Research Facility. With public tours available, bike rentals to explore the surrounding area and the chance to hit a hole-in-one in an opening that's a mile wide and a mile long, this unique attraction will provide a fascinating, educational outing that will captivate all ages.
In the mid-1870's, the Black Hills started attracting prospectors in search of fortune, and the area now considered Lead fast became a known hotspot for a wealth of treasures. Over the next 126 years, 41 million ounces of gold and 9 million ounces of silver were extracted from the mine. However, in December 2001, the last ore was mined and the caverns were eventually converted into an area to house world-leading research, known as the Sanford Underground Research Facility. Today, visitors to the Sanford Lab Homestake Visitor Center can not only learn more in-depth information about the history of the Homestake Mine, but they can also receive a surface tour of the research facility as well.
Public tours are given daily from May 1 through September 30 at 10:00 a.m., 11:30 a.m., 1:00 p.m., 2:30 p.m. and 4:00 p.m. In addition to a trip through historic Lead, you'll receive a surface tour of the Sanford Lab. The trek will also take you into the Yates hoist room, which contains hoists that have been in operation since 1939; you may even get a chance to see them in action! The tour offers a wealth of information, allowing you and your family to learn more about the mining process and Homestake Mining Company's waste water treatment plant, which is still in use.
Tour rates are as follows:
Families of 4 or more - $25
Adults (22-54) - $8
Students w/ ID (7-21) - $7
Seniors (55+) - $7
Winter tours - $5
Children 5 and under - Free
The visitor center also offers access to the exhibit hall at no charge, with the exhibits including historic photographs and videos, science and mining artifacts and a 3-D Model of the underground. You'll also receive an awesome view of the 1,250 foot-deep Open Cut from the hall's deck, making the exhibit hall a visitor center destination that should not be missed.
After taking part in the many educational activities offered at the Sanford Lab Homestake Visitor Center, take advantage of their convenient bike rentals, which allow you to explore the many trails that are located just minutes away from the site. Half and full day rentals are available, with Trek Marlin 5S mountain bikes on hand for ages 8-80+.
Learn more about visiting this family-friendly Black Hills attraction on the visitors' center website. Tours can be booked by calling (605) 584-3110.
Sanford Lab Homestake Visitors Center
160 West Main Street
Lead, South Dakota 57754
605-584-3100
160 West Main Street, Lead, SD 57754
Hours of Operation
Open daily from 9:00 a.m. – 5:00 p.m.