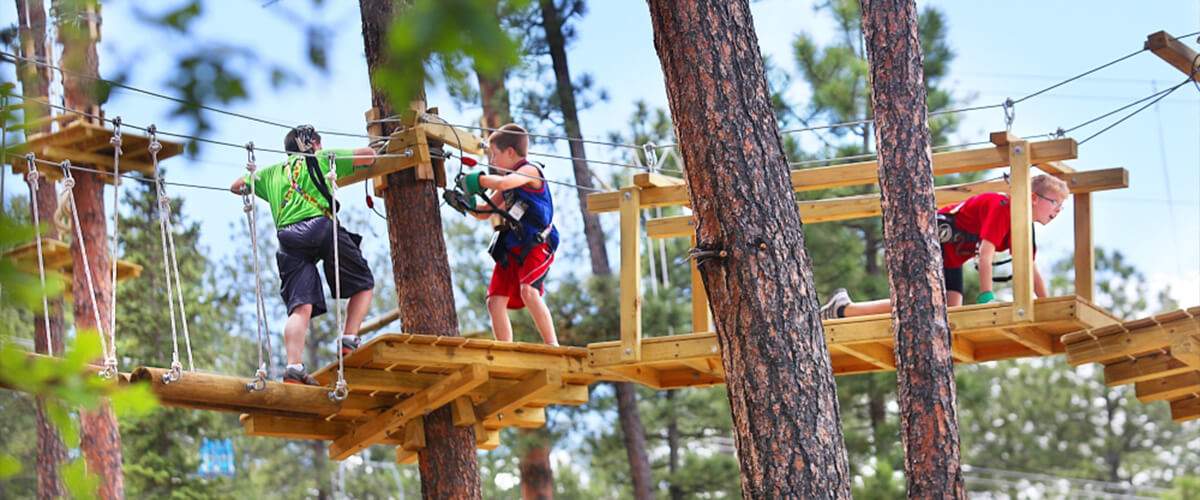 Planning your Black Hills vacation is an exciting time with the vast amount of things to do in Western South Dakota. There are numerous family friendly activities all surrounding the Powder House Lodge that make it easy to keep yourselves busy, such as Rushmore Tramway Adventure. Located just a short drive away from Powder House Lodge, Rushmore Tramway Adventure is the perfect place to spend an afternoon exploring with the family. After checking in to one of the many hotels near Mount Rushmore, such as Powder House Lodge, go explore Rushmore Tramway Adventure.
This adrenaline-rushing attraction offers something for everyone in your family for your Black Hills vacation. If your kids are more of a relaxed bunch and don't want the thrills offered by a ride, your family can see the Black Hills from a whole new view: on the scenic chairlift. Take a ride through the Black Hills from a height high above the tree tops and get a view of Mt. Rushmore like you've never seen before. Take in the sights and smells of the beautiful Ponderosa Pines surrounding you and take some time to relax somewhere other than in front of the TV at the numerous hotels near Mount Rushmore.
Another popular attraction at Rushmore Tramway Adventure is their numerous rides and features that will surely put some adrenaline in your Black Hills vacation.
Take a ride down the Alpine Slide, through the Ponderosa trees you just soared over. Think of an alpine slide like a bob sled, except without the cold and the snow and ice. The special carts are designed to navigate the sharp turns and ups and downs of the course, while being controlled by you. Go as fast as you'd like or as slow as you'd like by using a hand brake located in your cart between your legs.
Not up for a slide? Take a ride down the 800 foot zipline, zipping you through the wide open valleys and through the towering trees speckling the hillside of the Black Hills. The fresh mountain air whipping through your face will rejuvenate anybody, old or young. Safety is no concern, because as soon as you're strapped in, you're as safe as can be. Let your arms wave and let loose as you wind through the trees.
Looking for more of a quick fix adrenaline rush for your Black Hills vacation? Try the all-new attraction, the free fall tower, which will drop you from a height of 60 feet. You will free fall for 25 feet before a quick-jump mechanism catches you and safely lowers you to the ground.
The thrills found at Rushmore Tramway Adventure are something that you won't find while sitting in the hot tub at any of the hotels near Mount Rushmore. Get out to Rushmore Tramway Adventure for a family friendly way to spice up your Black Hills vacation.
605-666-4478
203 Cemetery Road, Keystone, SD 57751
Located
203 Cemetery Road
Keystone, SD 57751