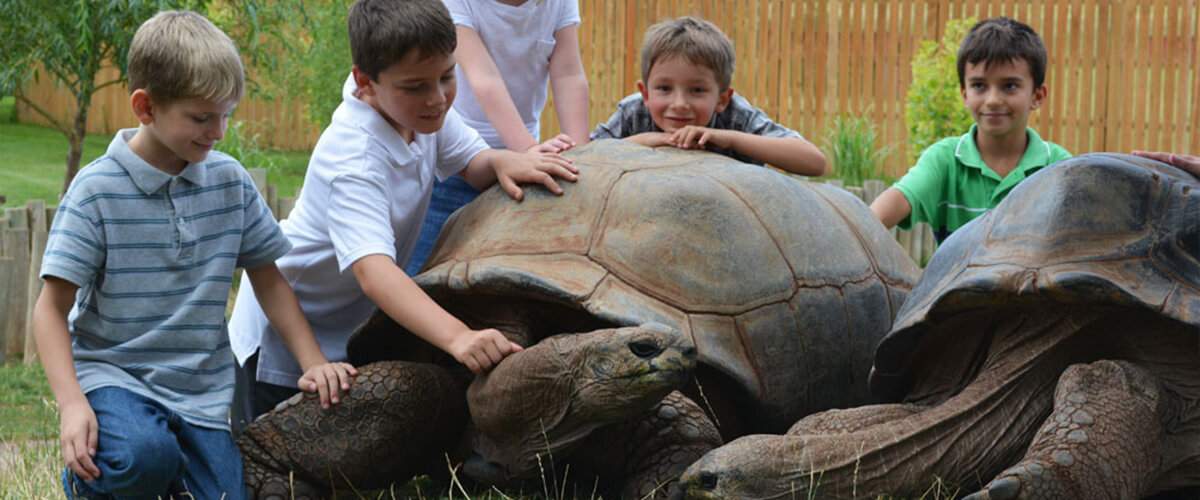 Snakes, spiders, alligators, turtles, birds, and that's only scratching the surface. Fill your Mt. Rushmore vacation with reptiles, flowers, and an exotic wonderland of creatures at Reptile Gardens. Located just a short 15 minute drive from the Powder House Lodge, there's no reason to not visit the exotic land of Reptile Gardens. While staying at the Powder House Lodge, Reptile Gardens is a great way to add some spice into your vacation.
Reptile Gardens is an exotic place that is home to many creatures that should only be viewed under close supervision as this. It is a great way to add some exoticness into your Mt. Rushmore vacation, while you're on your way back to the Powder House Lodge or on your way to see the grand monument of Mount Rushmore.
800-335-0275
8955 S. Highway 16, Rapid City, SD 57702
Location
8955 S. Highway 16
Rapid City, SD 57702
Look for the giant glass dome at the bottom of the hill!
Admission and hours vary, depending on time of year. Reptile Gardens is not open from December - February.
Reptile Gardens was first founded in 1935 by 19-year-old Earl Brockelsby. He began it due to peoples' fascination with snakes and was known for finishing his tours by lifting his hat to reveal a live, curled up rattlesnake under his hat.
Brockelsby built the first Reptile Gardens location on top of the hill, because at that time, cars would often overheat by driving up a large hill, so his thought was they would have to pull into the Reptile Gardens parking lot to cool off their radiators and they'd stay to see the gardens.
Admission to the park when it first opened was $0.10 for adults and $0.05 for kids.
They have the largest collection of reptiles housed in one location in the world, home to many of the world's most dangerous and deadliest snakes.
Not a fan of reptiles? They are also home to a large botanical garden, and Tortuga Falls, a cascading waterfall that spills into a 30' koi and turtle pond. The botanical garden and Tortuga Falls is home to acres of over 40,000 flowers and perennials mixed with mature, finely pruned trees and shrubs for you to enjoy. Need a laugh? Check out Darwin, our Australian Kookaburra.
Reptile Gardens was home to a 600-pound giant Galapagos tortoise, so named Methuselah, who unfortunately passed away in July of 2011. He had been a long-time resident of Reptile Gardens and so loved that on July 10, 2012, a life-sized bronze sculpture of Methuselah was unveiled, as well as a new kids' playground, and the day was declared as "Go Slow for a Day" by the Mayor of Rapid City in his honor.
Since his arrival at Reptile Gardens in 1954, it is estimated that Methuselah was seen by over 12 million visitors and could be one of the most photographed animals in the country.