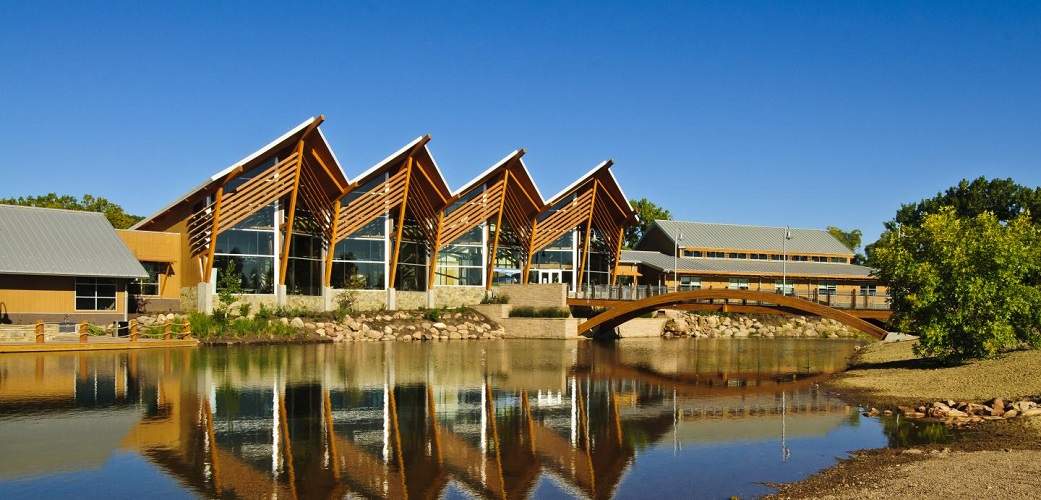 Outdoor Campus-West
Get lost in nature, right in city limits. The Outdoor Campus-West, located in western Rapid City, offers you the opportunity to have a hands-on experience while you learn more about the ecosystem of the Black Hills, as well as outdoor survival skills like hunting, fishing and camping. Bring the whole family to this free nature park that provides kid-friendly, interactive ways for everyone to learn more about nature and wildlife.
Those that appreciate extraordinary architecture will be amazed by the unique, modern vibe of the state-run park's building, which houses the facility's indoor exhibits. Directly inside, you'll find an area showcasing the different animals that are native to this area. The taxidermy animal displays are allowed to be touched, offering you the unique experience of feeling the texture of the various animals. The building's 4,600 gallon freshwater aquarium is another popular indoor attraction, especially at the daily noon feeding, which has been described by observers as a "frenzy".
Next, head out and check out all of the outdoor activities that the Outdoor Campus-West has to offer. Take a stroll and appreciate the beauty of the area on the 1 ½ mile nature trails that wind around the premises. Stations are set up along the way, providing additional opportunities to dig in and get your hands dirty. The entire family will get a kick out of a stop at the outdoor mud kitchen, where there are dishes and utensils of all sorts to create a funky, muddy masterpiece.
The Outdoor Campus-West also provides free educational classes for people of all ages that cover a variety of outdoor skills, from archery to campfire building. Sprouts (ages 3-7) and Youth (ages 8-12) can enjoy hands-on lessons about the ecosystem, as well as classes teaching skills such as archery and fishing basics. The whole clan can also bond together over backpacking or paddling lessons at one of the many family events that the campus hosts each month. Or leave the kids at home and spend a romantic evening learning something new with your sweetie, like fly-tying or cooking a delicious wild game meal, at one of the park's date nights.
Trails and paths throughout the campus are all stroller and ADA accessible, ensuring everyone can enjoy a relaxing nature retreat. Questions about exhibits and local wildlife and their habitats can be answered by the friendly staff that is on hand throughout the park.
A visit to this Black Hills attraction will prove to not only be an enriching learning experience for the entire family, but also an entertaining way to spend the afternoon for those travelling on a budget.
Head over to the Outdoor Campus-West's website for more information on the programs they offer, as well as to register for classes.
605-394-2310
4130 Adventure Trail, Rapid City, SD 57702
Hours of Operation
Monday - Friday: 8:00 a.m. – 5:00 p.m.
Saturday: 10:00 a.m. – 4:00 p.m.
Sunday: 1:00 p.m. – 4:00 p.m. (April - October)
Closed on Sundays, November 1 - April 1
Closed on State Holidays

Open Year-Round

Location and Contact Information