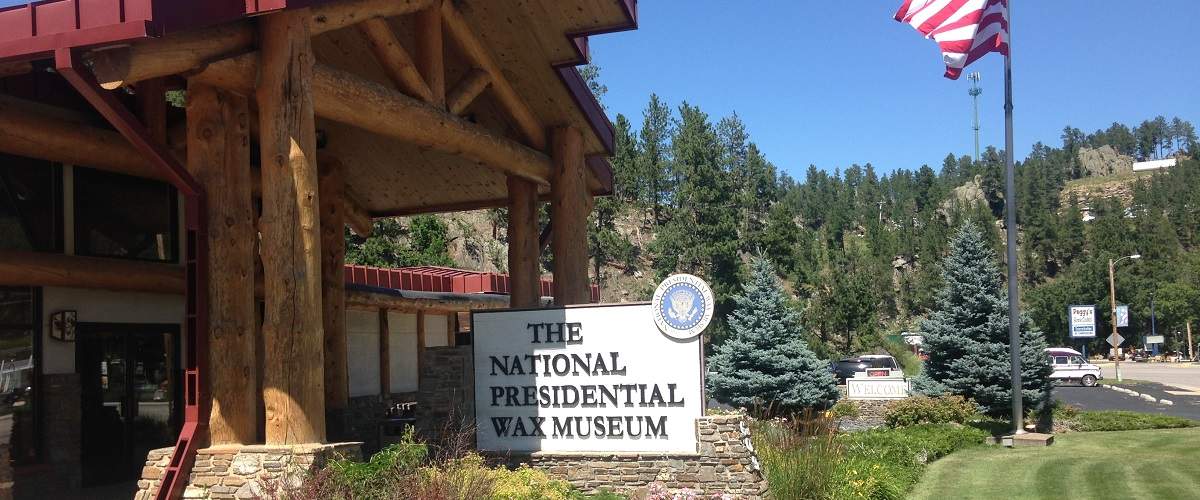 So, are you ready to meet some of the greatest Presidents and Historical Figures from America's past in person? Okay, maybe not in person, but the exhibits at the National Presidential Wax Museum in Keystone are as close to the real thing as you're going to get!
Located just 5 minutes from the Powder House – your Black Hills lodging headquarters – the National Presidential Wax Museum invites you to enjoy America's Heritage in wax at this family friendly attraction. The National Presidential Wax Museum features every United States President in realistic sets and period costumes. Step back in time as you see John John peering out the "Secret Door" from under John F. Kennedy's desk, or step into the Room as General Robert E. Lee surrenders to Ulysses S. Grant at Appomattox.
Their self-guided tour is a great way to experience all the National Presidential Wax Museum has to offer, as you make your way through the exhibits with a "tour wand," which allows you to listen to short presentations about the scene and the history it represents. Or if you prefer, simply walk through at your leisure and experience the displays visually. Typical tours last about 30 minutes, but some people can spend up to 2 hours going through the tour.
With new sets and a new theater added in 2017, The Presidential Wax Museum is great way to witness the history of American democracy from its inception. Not to mention the fact that the National Presidential Wax Museum is one of our Exclusive "Powder House Partners!" What does that mean? Well, we have made arrangements with select attractions throughout the area to get our guests reduced or discounted admissions. In this case, we are able to save our guests 15% off of normal adult and kids rates.
Just be sure and book your Black Hills cabin with us directly via our website and add your tickets during the booking process.
Tickets must pre-purchased when you book your initial reservations, they cannot be added or purchased at check-in or any time during your stay. Tickets limited by maximum occupancy of room ( e.g. If your room sleeps 4 people, only 4 tickets allowed to be purchased). Tickets valid only during dates of your reservation at the Powder House Lodge. Cannot be combined with other offers. Additional Terms and Conditions may apply.
605-666-4455
609 Hwy 16A Keysone, SD 57751
Hours of Operation
Sunday - Saturday:
9:00 am-5:00 pm