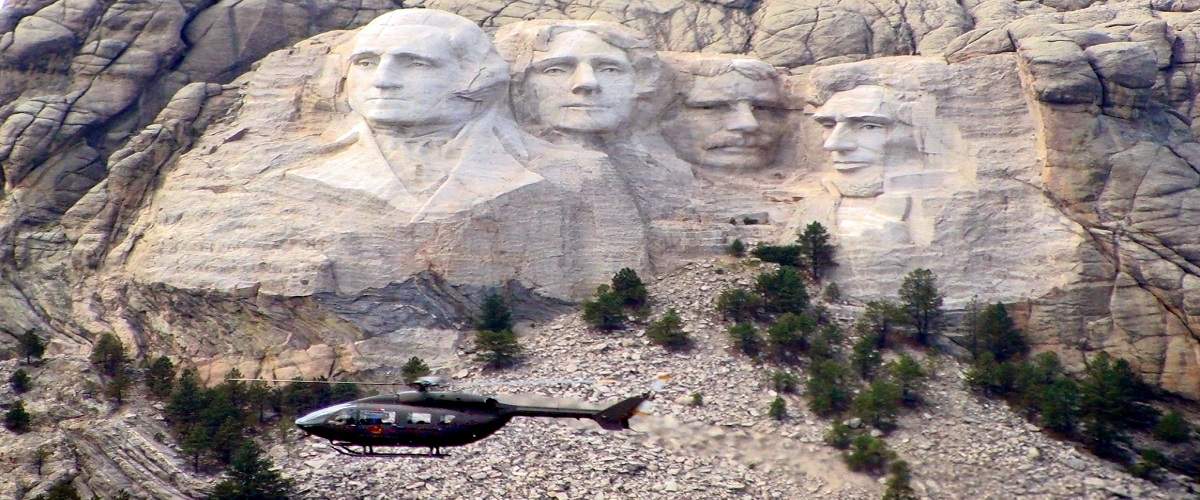 From looking the 60 foot faces of Mount Rushmore eye to eye to viewing the rugged beauty of the Badlands from high above, a helicopter tour from one of the Black Hills' premier companies will allow you to experience the region in a way you'll never forget. Each company offers many tour options, with customizable tours also being available, so you can find the perfect match for you and your group during your vacation. Read on to learn more, and add a helicopter flight to your itinerary for an adventure that's out of this world!
Black Hills Helicopters
Located right here in Keystone, Black Hills Helicopters offers a variety of tours to see Mount Rushmore and Crazy Horse Memorials, the Cathedral Spires, the Needles and Custer State Park, as well as private tours perfect for any special occasion.
If you've never been in a helicopter before and just want to test the waters, take the Mount Rushmore Tour, a 10 minute trek down Buckeye Gulch, through Keystone and past Iron Mountain to the Norbeck Memorial Outlook. Their most popular tour, the Horse Thief Helicopter Tour, is a 12-15 minute ride that explores the Mount Rushmore area a little more in-depth. A 40 minute tour of the southern Hills is also available, and will allow you to cross many premier destinations off of your bucket list. To experience the region in its entirety, go with their Badlands option, which will not only take you to the beautiful national park, but will also take you through Crazy Horse, Sylvan Lake and Custer State Park.
For a personalized Black Hills experience, book one of Black Hills Helicopters' private tours, which allow you to include only the attractions that you are the most interested in visiting. Chartered flights are also available for transportation to and from the Rapid City Regional Airport within a 60 mile radius.
Passengers are requested to arrive 20 minutes before takeoff for check-in and a safety briefing. Children 24 months and under are welcome to sit on an adult's lap at no extra charge; children over 24 months require an individual full-fare seat. Special arrangements are needed for those weighing over 300 pounds, so it is recommended to contact Black Hills Helicopters prior to booking so accommodations can be made.
Black Hills Helicopters is open daily from June 15th through September 30th from 8:00 a.m. to 6:00 p.m.
Reservations are required, and are available through their website.
Black Hills Helicopters
24035 Highway 16A
Keystone, SD 57751
(605) 255-4354
Black Hills Aerial Adventures
Featuring three heliports - one in Keystone, one by the Badlands National Park, and one in Custer – as well as four different types of helicopters, Black Hills Aerial Adventures offers a wide selection of tours that let you explore the many awe-inspiring attractions in the region.
A three minute drive from the Powder House Lodge, the Rushmore Heliport provides flights that will allow you spectacular views of the southern Black Hills, including Mount Rushmore National Memorial, Black Elk Peak and Crazy Horse Memorial. With their Discovery Flight, you'll fly six miles and have the opportunity to see the granite faces of George Washington, Abraham Lincoln, Thomas Jefferson and Theodore Roosevelt up close and personal. For a little more time in the air, try the Black Elk Peak Tour, which will take you 20 miles and includes stunning views of the highest point east of the Rocky Mountains and the area where National Treasure: Book of Secrets was filmed. Or go all out with their Southern Hills Panorama, a 35 minute journey that covers Mount Rushmore, Sylvan Lake and the Needles Highway. Not only can you choose from the five tour options available at the Rushmore Heliport, but you can also customize your tour to include your top must-see attractions.
To explore other areas of western South Dakota, visit one of Black Hills Aerial Adventures' two additional heliports, located in Custer and Interior, SD. The Crazy Horse Heliport in Custer provides more comprehensive views of the Crazy Horse Memorial and surrounding area, while the Badlands Heliport allows you to experience the distinctive terrain of the Badlands National Park like never before.
Groups of up to three are able to take a tour together on one helicopter. There is no age limit for flights, with those 2 and under riding for free. Passengers over 300 pounds are requested to contact the company before their flight so that one of the larger aircraft can be reserved. Otherwise, reservations are not required, with flights occurring May through October from 9:00 a.m. to 6:30 p.m., seven days a week.
Remember to bring your camera, as your helicopter experience is sure to produce photo opportunities that are once in a lifetime!
Learn more about Black Hills Arial Adventures and book a tour directly on their website or call them at (605) 673-2163.
Rushmore Heliport
313 Speck Center Road
Keystone, SD 57751
(605) 646-4801
Crazy Horse Heliport
24564 Hwy 16/385
Custer, SD 57730
(605) 673-2163
Badlands Heliport
21020 SD Hwy 240
Interior, SD 57750
(605) 646-4805
Add a helicopter tour to your itinerary for a one-of-a-kind adventure during your next Black Hills vacation!
24035 Highway 16A, Keystone, SD 57751
Black Hills Helicopters Hours of Operation
Open daily June 15 - September 30 from 8:00 a.m. to 6:00 p.m.
Black Hills Aerial Adventures Hours of Operation
Open daily May - October from 9:00 a.m. to 6:30 p.m.