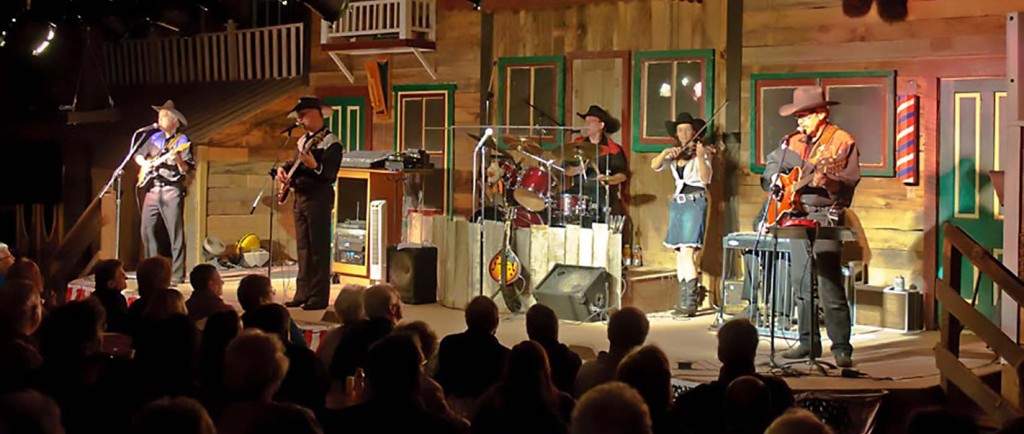 Giddy on up with excitement as you travel back in time to the Old West on a trip to the iconic Fort Hays Chuckwagon! From the Old West Town to the Chuckwagon Supper & Music Variety show, Fort Hays offers unparalleled family fun for visitors of all ages. Check out some of the activities below and visit their website for more information and reservations.
---
Cowboy Pancake Breakfast
Start your day off the famous Fort Hays Cowboy Pancake Breakfast featuring all-you-can-eat cowboy pancakes for only 99¢! Open seven days a week, the Fort Hays breakfast is served hot and fresh on home-made tin plates. In addition to pancakes you'll also find homemade biscuits and gravy, sausage, biscuits and honey, and cowboy coffee.
---
Old West Town Square
Step back in time at the Fort Hays Old West Town Square and experience the rustic charm and simplicity of the old west. The boardwalk features a variety of shops that will take you back in time to before mass production to a time when tools and necessities were made by hand. Kids and adults alike will watch in amazement as craftsmen work to make handmade rope, tools, bricks, plates and more. You can even tryyour luck panning for gold at the Gem & Mineral Shop!
And what Western experience would be complete without the proper cowboy/cowgirl attire? Stop by Fort Hays' variety of gift shops in the town square to find a great selection of Western-styles gifts, attire, toys, and the Black Hills' best assortment of local gifts.
---
South Dakota Film Museum &Dances With Wolves Film Set
Amongst the shops and attractions in the Old West Town Square you'll also find the South Dakota Film museum, featuring history and display items from over 50 miles that were filmed in South Dakota. Take a free self-guided tour through the museum which includes the film set from the Academy Award winning movie Dances with Wolves. You can take pictures, browse the set, and stand where John J. Dunbar (played by Kevin Costner) was given his new orders to Fort Sedgwick.
---
Chuckwagon Supper & Variety Show
The Chuckwagon Supper & Variety Show is the perfect attraction for anyone seeking to experience true Western fun and food! Once the supper bell rings you can feast your eyes on a true chuckwagon menu featuring sliced beef simmered in BBQ sauce, baked chicken, chuckwagon potatoes, western baked beans, ranch biscuits & honey, chunky apple sauce, old-fashioned spice cake, lemonade and cowboy coffee.

Once supper has been served, the show begins! The Fort Hays Wranglers take the stage to entertain adults and children alike in true western fashion. This family-friendly show is sure to have your whole family on their feet dancing and singing along to your favorite western hits, so be sure to bring a camera!
---
Buffalo Hunt
This Black Hills rollercoaster begins with one of the best views of the Black Hills you'll find in the area. Then it's time to grab your hat as you twist and turn through the valley swinging back and forth as you make your way to the end where you're sure to be asking for round two.
Whether you're 1 or 92, Fort Hays will keep you on your toes with things to do. There's something for everybody! Just 15 minutes away from the Powder House Lodge, along historic US-16E outside of Rapid City, you're sure to have a blast from the past when you step into the 1800's at Fort Hays Chuckwagon.
605-343-3113
2255 Fort Hayes Drive, Rapid City, SD 57702
Hours of Operation
Tuesday 7AM–7PM
Wednesday 7AM–7PM
Thursday 7AM–7PM
Friday 7AM–7PM
Saturday 7AM–7PM
Sunday 7AM–7PM
Monday 7AM–7PM