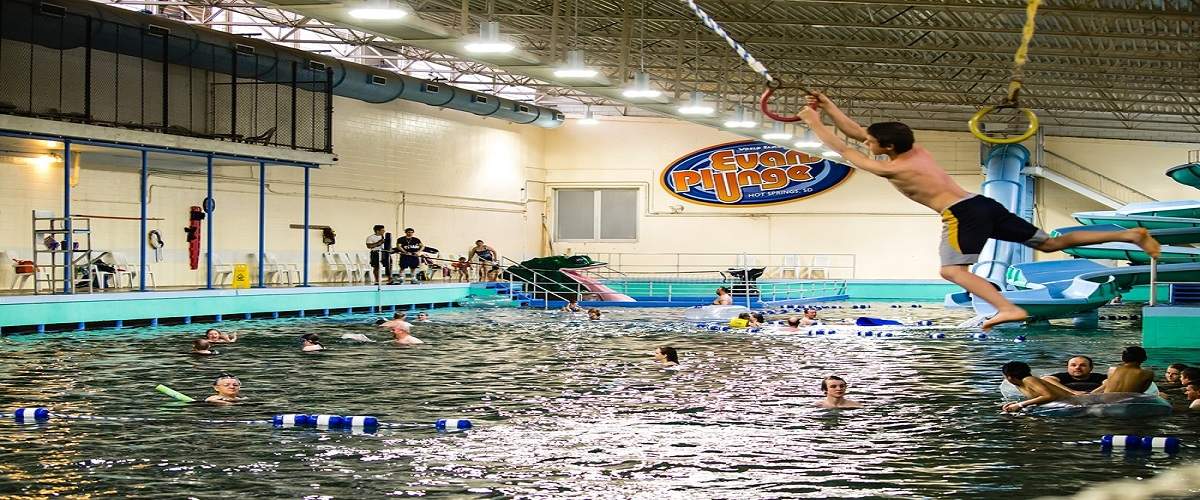 Established in 1890, Evans Plunge holds the title as the Black Hills' oldest visitor attraction. Utilized by the Lakota and Cheyenne for thousands of years because of its reported healing properties, the pools of spring-fed waters are kept at a mild 87°F and are minimally treated, allowing for a unique swimming experience. Head down to Evans Plunge, located an hour south of the Powder House Lodge on SD-79, for fun and relaxation that the entire family will enjoy.
With over 5,000 gallons of water flowing into Evans Plunge every minute from a thermal spring at the end of the pool, plenty of water is available for swimming, splashing, and relaxing. The water park boasts multiple slides and water activities for all ages, including:
Outdoor pool (open Memorial Day through Labor Day)
Outdoor slide
A slide that is safe for younger children
Swing rings
Water basketball and volleyball areas
Two kids pools
For those looking to kick back and rejuvenate, indulge in Evan Plunge's two hot tubs, sauna and steam room. Then fuel up with a healthy treat from the snack bar, which is funded in part by the South Dakota Department of Health's Healthy Vending Grant. Evans Plunge's amenities will make you feel as though you are in a ritzy spa for a fraction of the price, making it a great place to refresh during your vacation.
Not only can you frolic and unwind in warm spring waters, but you can also sneak in a workout as well. Evans Plunge offers weight, cardio and spinning rooms, as well as water aerobics and yoga instruction, with classes held regularly throughout the year.
Add this Black Hills attraction to your itinerary during your next stay at the Powder House Lodge for a memorable day that provides a little something for everyone.
Admission into Evans Plunge is as follows:
Ages 2 and under: Free
Ages 3-15: $10
Ages 16 and up: $14 (includes access to hot tubs, sauna and steam room)
Veterans, AAA members and seniors (55+): 10% discount on admission
Twilight special: Receive 50% off admission within 2 hours of closing time
Location and Contact Information:
Evans Plunge
1145 North River Street
Hot Springs, SD 57747
(605) 745-5165
Follow Evans Plunge on Facebook
Visit Evan Plunge's website for more information on visiting this renowned Black Hills Attraction.
605-745-5165
1145 North River Street, Hot Springs, SD 57747
Hours of Operation
Summer Hours (May 1st – September 30th)
Monday – Friday: 6:00 a.m. – 8:00 p.m.
Saturday and Sunday: 10:00 a.m. – 8:00 p.m.
Winter Hours (October 1st – April 30th)
Monday – Friday (Closed Tuesdays): 6:00 a.m. – 8:00 p.m.
Saturday: 10:00 a.m. – 8:00 p.m.
Sunday: 12:00 p.m. – 6:00 p.m.