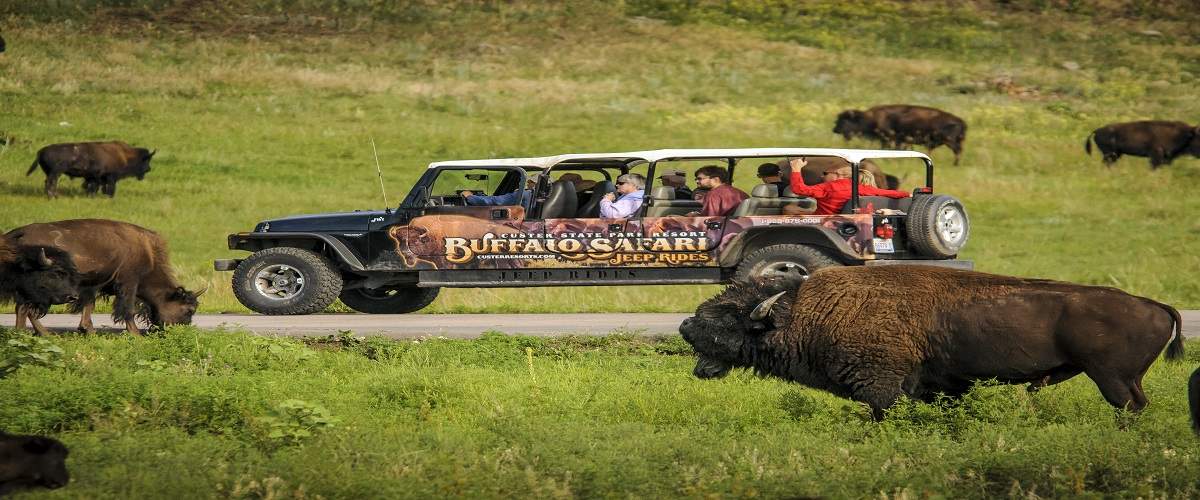 Experience Custer State Park up close and personal with the Buffalo Safari Jeep Tour, an exciting off-road adventure right here in western South Dakota. Since travel off-road in the park is restricted to authorized vehicles only, the tour allows visitors the opportunity to see areas they normally wouldn't have access to, as well as a closer view of roaming wildlife. So, grab your camera and safari hat and head half an hour south of the Powder House to check out what has been named one of the ten best safaris in the United States!
The open-air jeep tour starts and ends its roughly two hour trek at the State Game Lodge Resort, which made history by serving as the "Summer White House" for President Calvin Coolidge in 1927. Tours depart between 8 a.m. to 6 p.m. daily during peak visiting months, and by request only during the winter months, with the ride lasting 1 ½ to 2 hours. Going on the tour either first thing in the morning or later in the day is recommended since wildlife are more active during these times, giving you a better chance of encountering buffalo, elk, and pronghorns. For early-risers, Sunrise Safaris are now offered so that you can have your wildlife adventure before 8 a.m., with plenty of time left during the day to mark other must-see destinations off of your list.
During the ride, your guide will show you scenic spots where you can take in jaw-dropping views, as well as give you historical and educational information about the area. For instance, did you know that Custer State Park was originally established as a game reserve in 1913 to re-introduce species that had suffered as a result of hunting by settlers during the gold rush back into their natural habitat? Or that the American buffalo can run up to an astonishing 40 miles per hour? Learning more about wildlife while being able to view them in person will be a hands-on learning experience that the whole family will enjoy.
Add to the fun by reserving your spot to join in on a Western-style feast after your expedition. A chuck wagon cookout is provided at an extra charge, where you can chow down on steaks, cowboy beans and cornbread while taking in live entertainment. A cowboy hat and bandana are even provided so you can dress the part during the jamboree.
Reservations are recommended for the Buffalo Safari Jeep tour, and can be made by calling the State Game Lodge at (605) 255-4541. The admission price to take part in the tour is $53 for adults and $48 for children under 12. If you have ten or more people in your party, you can take advantage of the group rate, which discounts the price of admission to $48 per person.
Young and old alike will get a thrill out of this one-of-a-kind off-road look into Custer State Park. Make sure to add this safari adventure to your list of things to do while enjoying your stay at the Powder House Lodge.
13329 U.S. 16A, Custer, SD 57730
Hours of Operation
Tours depart daily from 8 a.m. to 6 p.m. The ride takes about 1 ½ to 2 hours. Call the State Game Lodge at 605-255-4541 to reserve your spot.

Cost
Adults: $55 | Children (under 12): $50