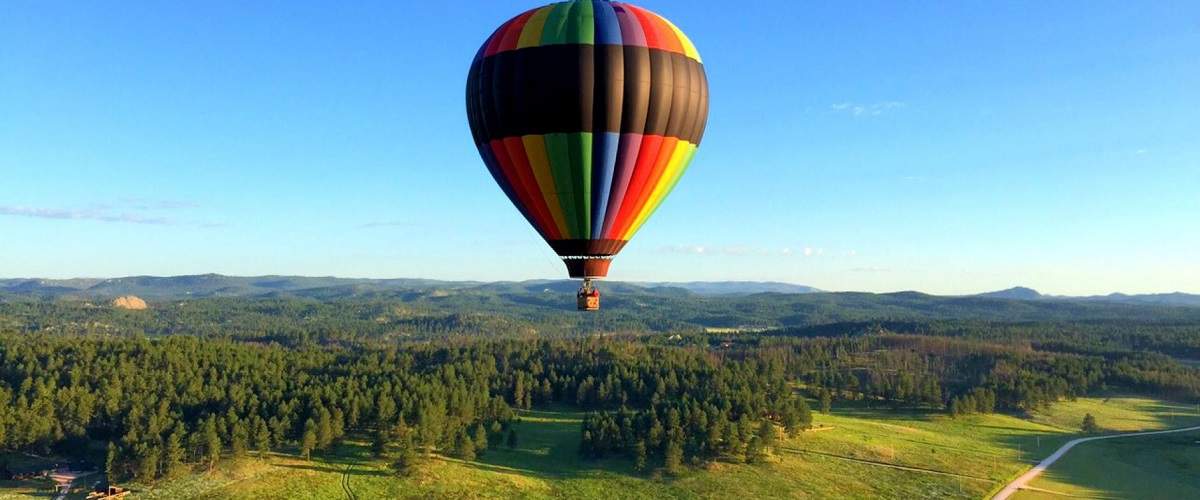 Cross an item off your bucket list during your visit to the Black Hills by viewing the area's magnificent and diverse landscape in a way you and your family will be talking about for years to come –a hot air balloon. Black Hills Balloons, located in Custer, South Dakota, is one of the oldest balloon ride companies in the U.S., and offers hot air balloon flights that will take you high above rolling hills and roaming wildlife while you soak in the beauty of the region at sunrise.
If you have never been in a hot air balloon and worry about your safety during the expedition, rest assured, as all balloons are federally regulated aircraft that are regularly inspected. Black Hills Balloons' skilled pilots also boast over 30 years of hot air balloon flying experience, and are federally licensed commercial balloon pilots. All hot air balloon flights are at the discretion of the pilot, with weather being taken into consideration. Riders are sent an email the night before the scheduled flight takes place to confirm if the weather will be suitable for the next day's ride.
On the morning of your hot air balloon journey, be sure to get an early start to your day, as it is requested that riders arrive half an hour before sunrise, which varies depending on the time of the season. Remember to dress comfortably, wear closed toe shoes, and bring along sunscreen, a hat and sunglasses, which are recommended.
Once you arrive at the Black Hills Balloons location, which is about a 30 minute drive from the Powder House Lodge, you'll meet with your balloon ride's pilot and crew. You will then be driven to the launch site, where you'll get the unique opportunity to watch the balloon being inflated, which takes around 20 minutes.
The flight itself takes about an hour, with the course taking you over Custer Valley and Custer State Park. You'll be able to observe vineyards, farms, lakes and valleys as your balloon drifts along with the breeze. It isn't uncommon to catch a glimpse of some of the area's wildlife, such as antelope, elk and buffalo, during your ride. Camcorders and cameras are allowed on the balloon so you can capture some spectacular shots to take home and show to friends and family.
Upon landing, the Black Hills Balloons crew will pack up all of the equipment while you are given a glass of champagne to toast the Balloonists Prayer. You will also be given a souvenir flight certificate to commemorate this extraordinary experience.
Add a hot air balloon ride with Black Hills Balloons to your itinerary if you're looking for a once-in-a-lifetime adventure during your stay!
605-673-2520
422 Mount Rushmore Road, Custer, SD 57730