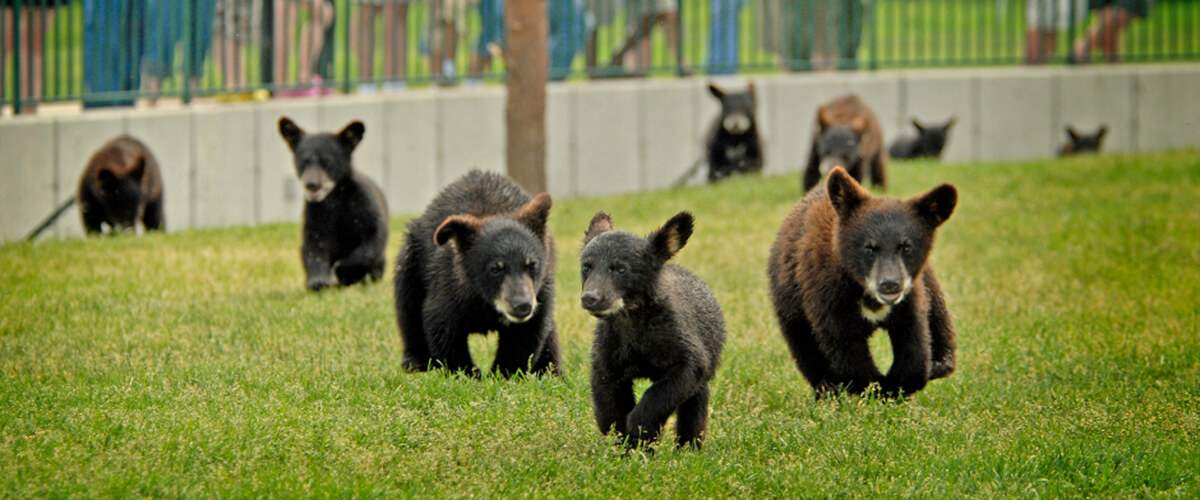 It's not every day that you can drive right alongside wild bears and live to tell the tale, but at Bear Country, that is exactly what you get to do. The unique drive-through wildlife refuge allows visitors to drive right through habitats to see wild bears, elk, wolves, and many other creatures up close and personal. Think of the great stories you'll have to tell from your Black Hills vacation.
Bear Country offers a unique view of wildlife that you would normally never get to see in a safe setting. Pile the family in the car and by driving through Bear Country, you will be able to witness full grown black bears walking straight up to your car and looking through the window at you. Over 200 acres of forest land with towering pines, Bear Country allows these magnificent creatures to live in their natural habitat, while still giving you a chance to see them up close and personal. The three-mile drive will allow you to encounter black bear, elk, reindeer, deer, cougars, bobcats, rocky mountain goats, bighorn sheep, dall sheep, pronghorn, and buffalo. Just remember to keep your windows up! The last thing you want to take home from your Black Hills vacation is an injury.
Bear Country was first opened in August 1972 by Dr. Dennis "Doc" Casey and his wife Pauline with 11 black bears, one cougar, one wolf, three buffalo, and one large bull elk. The park has now grown to more than 200 black bears and other various wildlife. The park is still owned and operated by Pauline and her three children: Shannon, Mike, and John. The closest zoo to Rapid City is in Denver, six hours away, so Bear Country offers a unique opportunity to the residents and tourists of the Black Hills.
While the acreage of Bear Country has not expanded over the years, the number of animals they have has and as a way to more easily manage the herds, many park improvements and animal enclosures are constantly being erected and maintained to give the animals the best place to live.
Visitors are invited to drive through the three mile wildlife park, then get out of their cars and walk the Wildlife Center loop, allowing guests to take a closer look at black bear cubs and young wolf pups romp and play together. Other animals viewable at the Wildlife Center include young bobcats, mountain lions, coyotes, foxes, badgers, and skunks, all properly enclosed. And it certainly wouldn't be complete without a great Bear Country gift shop for all of those Black Hills vacation souvenirs
605-343-2290
13820 S. Highway 16, Rapid City, SD 57702
Location
13820 S. Highway 16
Rapid City, SD 57702
A short eight mile drive out of Rapid City on the way to Mount Rushmore.
Hours vary depending on time of year and weather. Give them a call at 605-343-2290 for more information on when they are open.