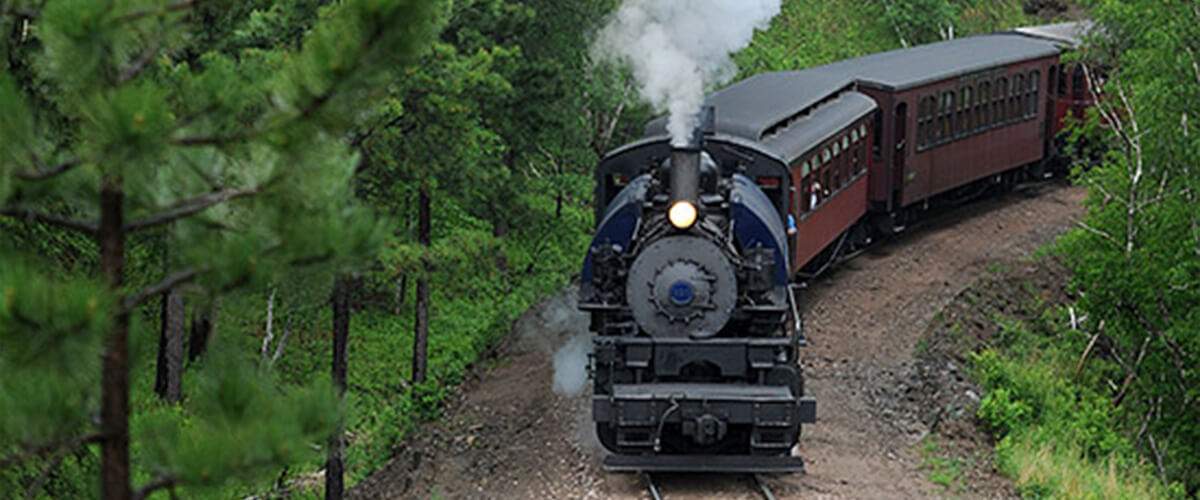 Just a short drive from the Powder House Lodge and other numerous Hill City, SD hotels, is the very popular 1880 Train, a truly unique way to view the picturesque Black Hills. The historic 1880 Train takes a relaxing and beautiful 20-mile round trip ride through the Black Hills from Hill City to Keystone on a vintage steam train. Take a tour hour trip through the Black Hills and take in all of the rolling hills and towering pine trees from the leisure of a narrated train ride.
The rolling hills of the Black Hills and the towering pines make a beautiful backdrop for this relaxing ride. While on the 1880 Train ride, you'll get to see numerous meadows, wooded canyons, and plenty of forest land. The ride follows Battle Creek, which is where many gold prospectors went before the turn of the century, so you will be able to see old miens and mining operations. As the train meanders through the National Forest Service land, it will cross over County Road 323, which will give passengers the chance to hear the steam whistle blow.
Not only will you get to see a lot of beautiful mountain scenery, but you will also get to see wildlife, including white tail deer, mule deer, wild turkey, wood chucks, mallard ducks, and cottontail rabbits, just to name a few. The host on the train will narrate the whole trip for you, giving you history into the old days of the Black Hills and the history of the train.
The 1880 Train was originally started by William Heckman in 1957 as a way for "boys of all ages who share America's fondness for the rapidly vanishing steam locomotive" to come and enjoy. He dreamed of a train that was reminiscent of ones in the 1880s, thus the name the 1880 Train. It is now the oldest continuously operating tourist train and is close to many Hill City, SD hotels for your vacation needs.
The 1880 Train regularly hosts special events, including the Holiday Express in December, complete with Santa and a trip to the North Pole, the Rails and Ales to celebrate local craft breweries, the Wine Express to learn more about local wineries, and the Oktoberfest train ride to get in the fall spirit. Other special events include the Mother's Day Special, Father's Day Special, July 4th Celebration, and Prairies to Peaks Iron Horse Rail Summer Camp. Their special event rides are always worth planning a trip out for.
605-574-2222
222 Railroad Ave. Hill City, SD 57745
Location
222 Railroad Ave.
Hill City, SD 57745
Keystone Station
103 Winter Street
Keystone, SD 57751
Reservations can be made for your round trip journey online or by calling them at 605-574-2222. They are not open January-April due to weather.