– By #Powder House Lodge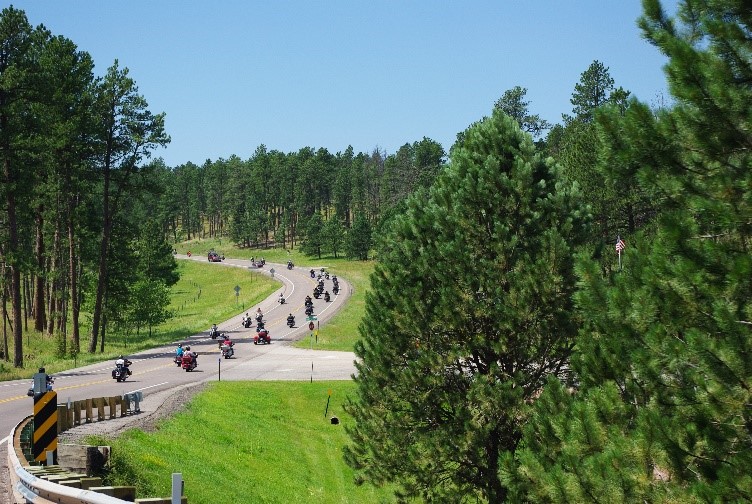 The Sturgis Motorcycle Rally is one of the biggest events to happen every summer in the Black Hills. It's a fun time for us up at the Powder House because many of our guests have stayed with us year-after-year for the Sturgis Motorcycle Rally. Having these guests return every year for their Sturgis Rally lodging is almost like seeing extended family for a week every year. In addition to the regular rides, many of our guests actively participate in charity rides during the Sturgis Motorcycle Rally. We've put together a list of rides that you can participate in during your visit to the Sturgis Motorcycle Rally. Many of these rides are charity rides, which are a great way to have fun, explore the hills, and ride for a good cause.
Save
Save
CUSTER

Veterans Appreciation Ride Poker Run - Thursday August 11, 2016. Custer to Hot Springs & Return. All proceeds from this run go to benefit the Custer Veterans Memorial. Contact 605-228-2121 for any questions. Visit the website here.

STURGIS

Good Ride - August 7, 2016. The 76th Annual Sturgis® Motorcycle Rally™ welcomes a newly organized ride to the event. The first annual Good Ride will be led by Carey Hart. This is a new charity ride that will benefit the Sturgis Brown High School welding class. Visit the website here.

Sturgis Mayor's Ride – August 8, 2016. Join Sturgis Mayor Mark Carstensen & Grand Marshall motocross legend Ben Bostrom for the 14th Annual Sturgis Mayor's Ride. Registration for the ride begins at 6:30 am and departs at 9am. You will be escorted on several of the Black Hill's most spectacular two lane roads and byways. Included is a stop at Mount Rushmore for a group photo. The ride will end in Custer State Park with a luncheon hosted by Mayor Carstensen. Proceeds from this ride will go to benefit the Sturgis Volunteer Fire Department, the City of Sturgis Police Reserves, and the Sturgis Ambulance Service. Visit the website here.

Angel's Ride - August 12, 2016. The number of women riders is on the rise in America, and we'd like to celebrate that! Join tons of women riders on this year's Angel's Ride, held on Friday, August 12, 2016. This ride will provide the perfect chance to rub elbows and ride alongside some of the best women riders in the country. Proceeds from the Angel's Ride will go to benefit the Nature Conservatory. Visit the website here.

Serenity Ride – August 11, 2016. The celebrated SERENITY Ride is affiliated with the Sturgis Group of AA. The ride will begin at St. Thomas Episcopal Church at 9am for a safety meeting. The ride will depart from the church at approximately 10am and is expected to arrive at Nemo Rock around noon. At Nemo Rock there will be a picnic and a meeting. Visit the website here.

BUFFALO CHIP

Legend Rides (starts in Deadwood) – August 8, 2016. The Sturgis Buffalo Chip® invites you to participate in an exhilarating and unrivaled rally tradition on Monday, Aug. 8, 2016: the ninth annual Legends Ride! This event is dedicated to bringing rally goers together to raise significant funds for local charities. The Legends Ride has, since its inception in 2008, raised well over $400,000 for charity and hosted riders from all over the world, in addition to some of the biggest names in television, film, music and motorcycling. Visit the website here.

Biker Belles (starts at Buffalo Chip) – August 9, 2016. Experience a day of Real Riders, Real Stories and Real Passion during the eighth annual Sturgis Buffalo Chip® Biker Belles Celebration. On Tuesday, Aug. 9, from 8:30 a.m. to 2 p.m., you're invited to join a guided ride through the beautiful Black Hills and participate in a day of festivities at The Lodge at Deadwood that celebrates women in riding and supports organizations benefitting women's causes. Proceeds from this ride go to benefit Helping with Horsepower and the Sturgis Motorcycle Museum & Hall of Fame. Visit the website here.

Freedom Celebration Ride (starts in Spearfish) – August 11, 2016. A special Buffalo Chip celebration and ride has been planned to honor America's veterans and raise funds for organizations benefitting wounded vets and their families. The third annual Freedom Celebration Ride will be held on Thursday, Aug. 11, with registration from 9am-1pm at the B & B Lounge on Main Street, Spearfish. There will be activities and live music from the Army National Guard Sargent Rock Band from 11 to 1. The ride will depart at 1:30 and will conclude at the CrossRoads at the Sturgis Buffalo Chip® with a reception at about 2:45. The ride will lead participants on a route across the scenic high plains and foothills of the northern Black Hills. Visit the website here.

SPEARFISH

Jacket Ride – August 9, 2016. The Jacket Ride is a motorcycle ride though the Northern Black Hills of South Dakota that takes place during the Sturgis Motorcycle Rally. The ride is hosted by Black Hills State University and the proceeds benefit student veterans. Visit the website here.


PIEDMONT

Memorial Ride – August 13, 2016. Line up for the Memorial Ride to Black Hills National Cemetery begins at noon on August 13. The ride will depart at 12:30pm. The ride is sponsored by Rolling Thunder Inc, SD Chapters 1 & 2. Visit the website here.

RAPID CITY

Ridin the Rez Poker Run – August 13, 2016. Join us for a Poker Run on Thursday, August 11th from Rapid City to the Pine Ridge Indian Reservation! There will be onsite registration at 9am at The Journey Museum (222 New York Street). The Poker Run starts at 10am and will include an informational interpretation at Wounded Knee Memorial along with a meal and entertainment at the end of the ride. Visit the website here.

While so many people visit the Sturgis Motorcycle Rally every year, the ones who put on – and participate in – these charity rides really go the extra mile for the love of the ride. We'd like to thank all of our extended Sturgis Motorcycle Rally family for staying with us year after year. Whether this is your first year staying for the Sturgis Motorcycle Rally or you're a returning guest, the Powder House Lodge is close to all of your favorite attractions and beautiful rides in the Black Hills. Call us today at 1-800-321-0692 or check availability on our website to book your stay. Our restaurant is open daily, and we serve breakfast (7:00 am – 11:00 am), lunch (11:00 am – 4:00 pm), and dinner (4:00 pm – 9:00 pm). We feature prime rib nightly (while it lasts); an extensive selection of pastas, seafood and wild game; as well as a gluten sensitive menu. See you soon!
---
Last Modified: