– By #Powder House Lodge

We all have our own vision of what rest and relaxation looks and feels like. For some, a night out without the kids is the perfect escape, while an extended visit to the spa may be the perfect source of bliss for those who have worked tireless hours and need a reason to disconnect from the world around them. No matter your preference, we're here to assure you that the Black Hills are the perfect escape for anybody looking to unwind and recharge.
Sure, the Black Hills are home to a wide variety of thrilling, adrenaline-inducing attractions, but the true beauty of the hills lies in their more serene attractions ranging from spas and wineries, to peaceful trails, hot air balloon rides and more. Here are some the top activities you should consider integrating into your travel itinerary on your Black Hills vacation.
Great Local Spas
Moccasin Springs Natural Mineral Spa (Hot Springs, SD)
Find your inner chi by taking a day trip to Hot Springs' popular Moccasin Springs Natural Mineral Spa. As the city's name suggests, Hot Springs is bubbling at the surface with its warm spring water that makes for the ultimate escape. Soak in natural mineral spring water ranging in temperature from 88 degrees to 102 degrees 365 degrees a year, or spend time reducing stress with a Reiki therapy session, spa facial or raindrop therapy at this Black Hills Spa. No matter your taste for wellness, Moccasin Spring Natural Mineral Spa has a little bit of something for everyone to enjoy, only an hour away from Powder House Lodge.
Black Hills Salt Cave & Spa (Spearfish, SD)
Just over an hour away from Powder House Lodge, you'll find Black Hills Salt Cave & Spa in scenic Spearfish, SD. As their name suggests, Black Hills Salt Cave & Spa offers the only salt cave experience you'll find in the Black Hills. From facials to massages, microdermabrasion, and more, a morning or afternoonat this Black Hills spa will give you ample time to reflect inward and disconnect from the hecticness of your day to day life. After your time at the spa, you can take your relaxation to the next level with a cruise through the stunning landscape of Spearfish Canyon!
Akela Spa of Deadwood (Deadwood, SD)
Whether you're escaping the family for an afternoon with the girls or looking for a romantic getaway with your significant other, Akela Spa outside of Deadwood, SD makes for the perfect afternoon escape. Offering a wide range of spa services for men and women, Akela Spa provides visitors a one-of-a-kind Black Hills spa experience steeped in the rich, indigenous culture of the Black Hills. Just under an hour away from Powder House Lodge, Akela Spa is essential for anybody in need of pampering.

Wineries
If enjoying fresh, local vino or brews is your idea of a relaxing time, the Black Hills are chalk full of popular breweries and wineries to escape to for a morning or afternoon excursion. Check out our guides to the Wineries of the Black Hills and Breweries of the Black Hills to learn more. If you aren't looking to stray too far from your lodging accommodations at Powder House Lodge, we have a wide selection of local craft beers and wines you can try without leaving the property.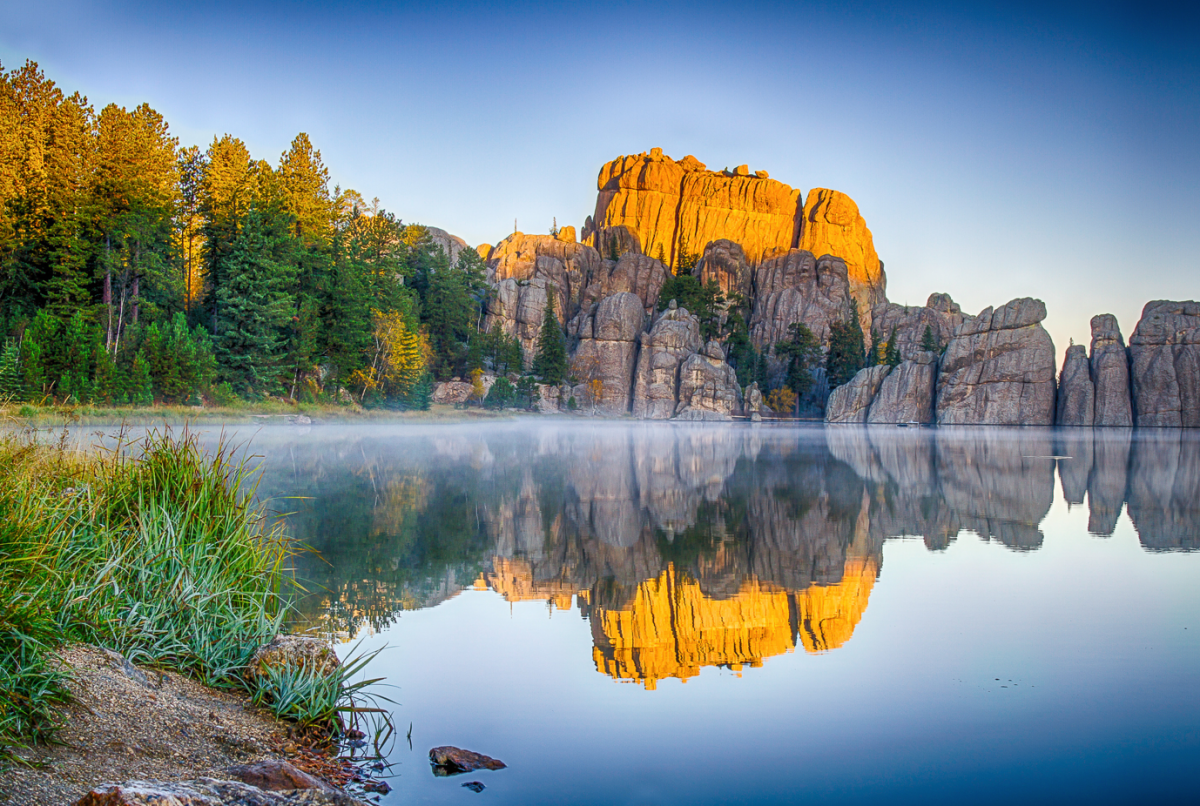 Relaxing Outdoor Activities in the Black Hills
Hiking
Breathing in fresh mountain air is the equivalent to receiving an IV drip treatment on a trip to the Black Hills. With miles and miles of trails, pruned to perfection for foot traffic, the Black Hills offer an extraordinary selection of hiking trails for locals and visitors alike. From simple nature hikes to difficult treks to hilly havens, you'll find no shortage of hiking heaven in the Black Hills. With limited access to cellphone service on most of these trails, you'll have no choice but to immerse yourself in the splendor of the nature that surrounds you. Check out our guide to our favorite Black Hills hikes to learn more.
Hot Air Balloon Rides (Custer, SD)
Finding time to detach from your busy schedule can be difficult… unless you're suspended from a hot air balloon, hundreds of feet above the majestic, rolling Black Hills. With a hot air balloon adventure from Black Hills Balloons, located in Custer, SD, you'll see the Black Hills like never before as you peacefully coast along clear skies for about an hour. What's more, you'll even have the opportunity to pop champagne to celebrate your excursion once you land! For those who don't have the heart to handle relaxation at high altitudes, this next activity is for you.
Taking a Cruise through the Black Hills
Whether you brought the family caravan along with you on your Black Hills vacation or struck gold renting a convertible, the Black Hills are just as thrilling to experience from the road as they are in the sky. Whether you're cruising along historic Highway 16, exploring Custer State Park via the Wildlife Loop or Peter Norbeck Scenic Byway, or enjoying a short trip to the top of Iron Mountain on Iron Mountain Road, you'll be amazed by the sites you can see from your vehicle. From picturesque vistas of Mount Rushmore Memorial through hand-carved tunnels to close encounters with the wide variety of wildlife that call the Black Hills region home, the roads and highways of the Black Hills have no shortage of spectacles and breathtaking views to help you relax and rewind. Check out our top scenic Black Hills drives.
While the tranquil escapes of the Black Hills are numerous, we can't think of a better way to kick off a relaxing trip to the area than a stay at Powder House Lodge. Located just outside of Keystone, SD, our wide variety of lodging accommodations blend the beauty of nature with all the modern amenities you'll need to make your stay memorable. Book your reservation today!
---
Last Modified: