– By #Powder House Lodge
It seems like just yesterday we were closing down for the 2015 season. The weather has been getting warmer after a fairly mild winter. We're approaching the end of April and have been fortunate enough to have some great weather so far. We didn't really get a lot of snow this year, so let's hope for some rain in the next couple weeks to keep the fire danger down and the Black Hills green. We're hard at work getting things ready for the 2016 season, and we're truly excited for this season. We've got some really exciting things to talk about, so let's get to it!
2016 Season
We're excited to announce that we'll be opening our doors the second week of May. We can't wait to get the 2016 season started, and we're ready to make new friends and reconnect with our old ones. If you're looking for lodging in the Black Hills during your South Dakota vacation, we invite you to
browse through our lodging options
. We work very hard every year to ensure that you have the best Black Hills lodging experience possible.
Homestead Cabin
The 2015 season saw the first full season for our newest cabin The Homestead. Our Homestead
cabin was actually finished in August of 2014, and was the first new cabin constructed in nearly 18 years. After years of continued maintenance and improvements on existing facilities and infrastructure, we decided it was time. Earning its' name, the Homestead cabin, offers guests' nearly 1600 square feet of space. This newest addition features a full-sized kitchen including a full-size refrigerator, stove and range, as well a dish washer, not to mention a washer and dryer to help keep up on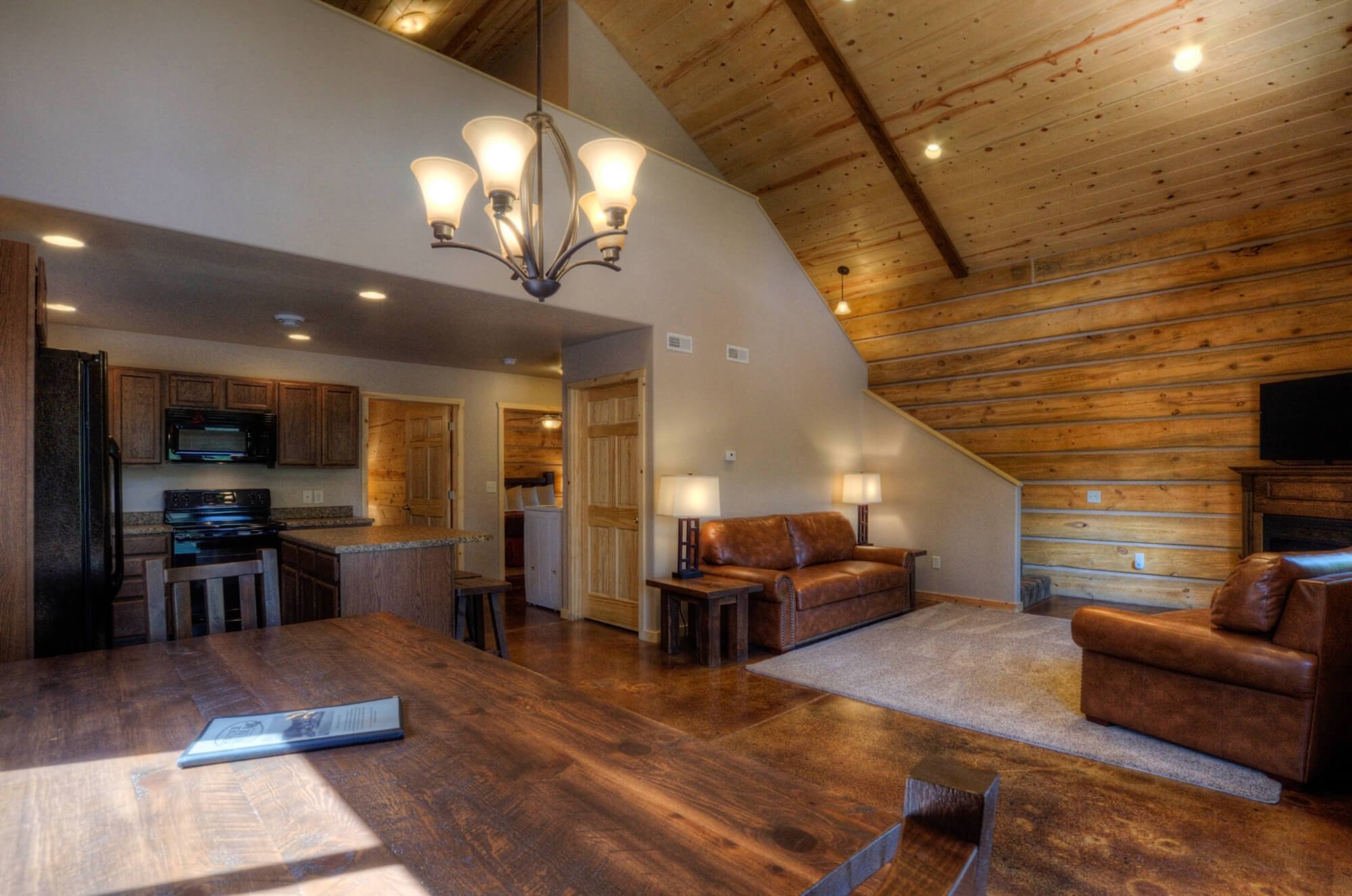 the laundry while you are away.
With 4 bedrooms and 2 bathrooms this unit sleeps 13 people comfortably and has a great covered outdoor patio featuring a BBQ grill, plenty of seating and a gas fire-pit as well. I could sit here and tell you about all the features of this great cabin,
but check it out for yourself here.

New Patio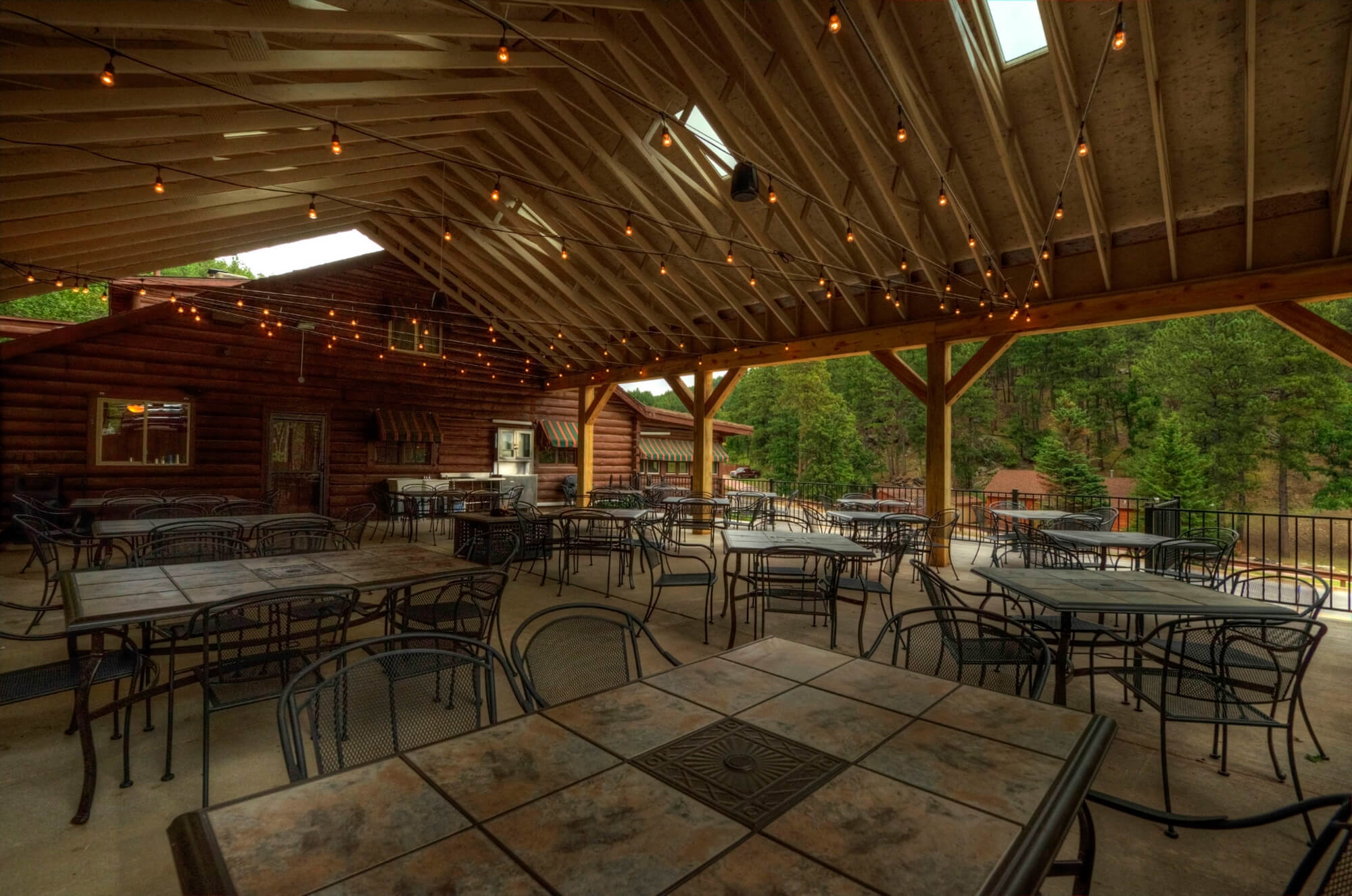 Okay, okay, it's true. Our new patio was actually finished last year. However, due to weather delays, by the time the last of the concrete was poured, and everything was set up, we were well into the 2015 season. We've got some great ideas for how to utilize this truly unique space. First and foremost, our covered patio offers a dining experience you won't find anywhere else in the Black Hills. Enjoy our prime rib or a nice Buffalo filet mignon in the peaceful outdoor setting. Just need to wet your whistle after a relaxing day in the Black Hills? Grab a drink at our full-service bar and soak in the view from the patio. It's a great way to end the day and a great way to experience serene Black Hills lodging at its finest. We've been tossing around other ideas for the back patio such as: Sunday Brunch on the Patio, Movie Nights on the Patio, and Private Events on the Patio.
Tesla Charging Stations
Last year, we installed charging stations for electric vehicles. With the popularity of electric vehicles growing and the cost of electric vehicles declining, we thought we'd be a little unique and offer guests with electric vehicles the amenity of free vehicle charging. There are plenty of miles of road ready for exploration and plenty of Black Hills attractions you and your family will love. We want to make sure our guests have the juice to experience all of the great attractions the Black Hills has to offer.
76th Sturgis Motorcycle Rally
In 2015, the Sturgis Motorcycle Rally celebrated its 75th anniversary. The 76th Sturgis Motorcycle Rally in 2016 promises to bring as much fun and excitement as it has in years past. Best of all? We still have lodging available! If you're making plans to visit the 76th Sturgis Motorcycle Rally and still looking for Black Hills lodging options, give us a call at 1-800-321-0692 to make your reservation today. Although we still have spots available, rooms are filling up quick for the area's biggest week of fun.
We'd like to send our thanks to all of you who have already made reservations for the 2016 season. If you're planning a vacation to the Black Hills, we invite anyone who has questions to please give us a call at 1-800-321-0692, and we will do the best to answer your questions. Whether you're planning a family vacation or gearing up for the 76th Sturgis Motorcycle Rally, give us a call at 1-800-321-0692 for a Black Hills lodging experience you won't forget. We'll see you soon!
---
Last Modified: