– By #Powder House Lodge
Located in beautiful Custer State Park at the site of an old CCC camp, the Black Hills Playhouse (BHP) was Inspired and founded in 1946, by the vision of Warren M. "Doc" Lee, who believed the Black Hills Playhouse could provide a unique and intensive training opportunity for theatre professionals in the region while helping enrich rural areas.
Today, the BHP is one of the oldest continuously operating summer stock theaters in the nation, as 2014 marks the 69th season for the company. Every summer, BHP continues to bring incredible artists from all over the nation to create magical theater productions for residents and people visiting the Black Hills and educational experiences for students of theatre.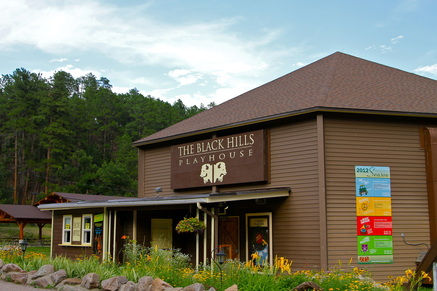 This summer, the Powder House Lodge is pleased to partner with the Black Hills Playhouse and support the 2014 production of SYLVIA as an Executive Producer Sponsor.
SYLIVIA, by A.R. Gurney, is a romantic comedy that explores the bond between man and man's best friend and the effects that such a bond can have on man and wife. After Greg and Kate have moved to Manhattan after twenty-two years of child-raising in the suburbs, Greg brings home a dog he found in the park—or that has found him—bearing only the name "Sylvia" on her name tag. A street-smart mixture of Lab and Poodle, Sylvia becomes a major bone of contention between husband and wife.
SYLVIA opens at the Black Hills Playhouse this Thursday, June 5th and will run through June 15th. The Powder House Lodge is excited to be the Executive Producer Sponsor for this production, and in appreciation of your support of this production, the Powder House Lodge is offering all ticket holders 50% off of a meal with their ticket stub.
For more information on the dates and show times of SYLVIA, please call the Black Hills Playhouse office at 605-255-4910 or visit the Black Hills Playhouse website at www.blackhillsplayhouse.com for more information.
For Dinner Reservations at the Powder House Lodge or more information regarding this offer or the Powder House Lodge, please call toll free at 1-800-321-0692 or 605-666-4646.
---
Last Modified: