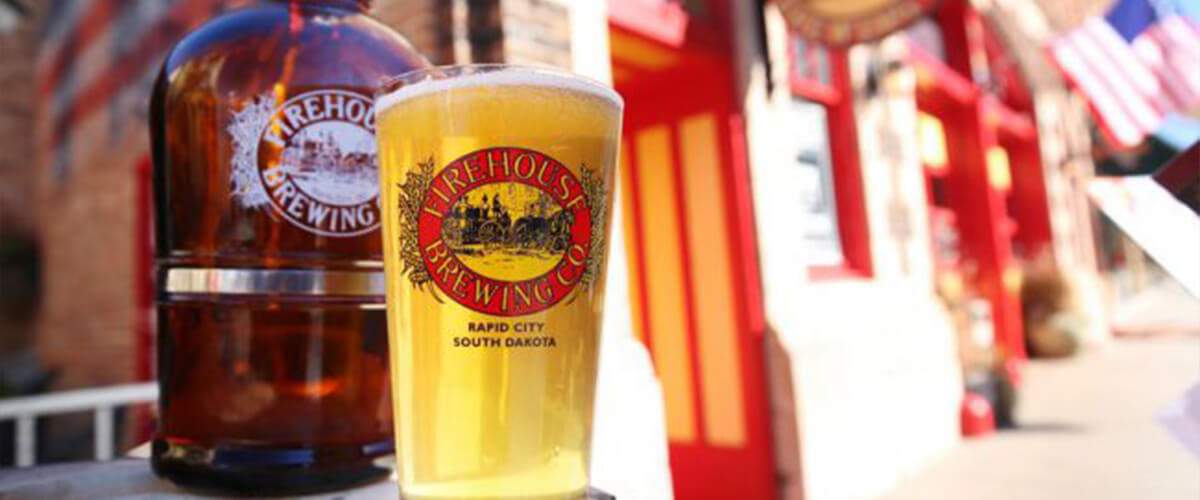 The craft beer scene is exploding in the Black Hills and throughout the country. Tap into the craft beer scene at one of the Black Hills' veteran brewers, the Firehouse Brewing Company. Located just a short 30 minute drive from the Powder House Lodge, the Firehouse Brewing Co. is located in the heart of the hustling, bustling, and breathtaking downtown Rapid City and they have a wide range of beers and wines for every taste bud in your party and is the perfect way to truly experience the beer culture during your Black Hills vacation.
The Firehouse is South Dakota's oldest operating brewery, opening on December 5, 1991, a mere 93 days after work began on renovating the old firehouse. It is housed within the original Rapid City firehouse, which was built in 1915. The Firehouse Brewing Co. is located in the heart of the buzzing downtown, and is surrounded by historic buildings, bringing a bit of character and flair to the downtown. Downtown Rapid City looks like it was plucked straight out of a historic movie and the Firehouse building adds to the ambiance.
The Firehouse Brewing Co. came to be after some Rapid City locals visited a downtown pub in Denver. Now the brewery has grown to include not only the brewery, but also an indoor restaurant and bar, and outdoor patio with band shell for live music, a theatre, a winery, and a mercantile. This local favorite is a must stop on not only your beer tour, but will also serve as a great history lesson on your Black Hills vacation. The newly renovated brew pub now features d'cor reminiscent of the firehouse days, with polished brass and firefighting equipment throughout the building.
The Firehouse Brewing Company prides itself on a good glass of well-crafted beer. Each year they brew around 40 different unique beers and will have nine beers on tap at any given time. They go through 350-620 pounds of gran and 4-19 pounds of hops to create one batch of beer. Some of their favorite ingredients to flavor their beer include honey, spruce tips, orange zest, cacao, mint, and ginger. Any leftover grain they have is used to help feed animals at local farms in the Black Hills region.
Not only can you taste a bit of local beer on your Black Hills vacation, but Firehouse Brewing Co. also owns and operates the Firehouse Wine Cellar, conveniently located right next door. This recently new venture of Firehouse has produced a large number of great wines, including seven reds and 12 whites. From fruity wines to dry reds, the Firehouse Winery has a different wine for every taste bud.