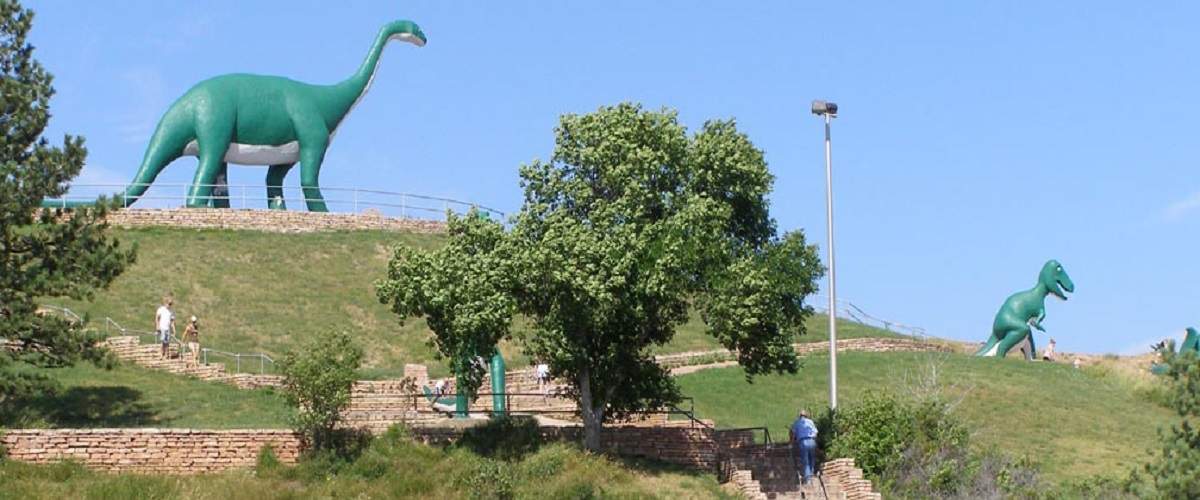 Located on the picturesque Skyline Drive, Dinosaur Park is the perfect destination for the family traveling on a budget. Not only will kids be entertained by the seven gigantic concrete dinosaurs that are located throughout the park, but fantastic views of Rapid City and the surrounding area are also available and provide for excellent photo opportunities. So grab the family and head over to this free iconic Black Hills attraction during your next stay!
Constructed in 1936, the sculptures within the park are made of black iron pipe with a wire mesh frame and covered in concrete. The species of dinosaurs on display at the park were chosen because many of their fossils have been found in the Black Hills, making them a great representation of this area's ancient history. Originally gray in color, the dinosaurs were painted bright green in the 1950's, which is the hue they maintain to this day. With the statues braving the area's winds and extreme weather for over 80 years, the dinosaurs have remained largely intact and have suffered little wear and tear over the decades.
Not only do the dinosaur sculptures represent the creatures that inhabited western South Dakota, but they also reflect the way dinosaurs were viewed back in the 1930's. The dinosaurs are all positioned with their tails dragging on the ground, which was the stance paleontologists at the time envisioned dinosaurs took while standing and walking. Later studies would reveal that the tail bones and muscle structure of the large creatures would have made that posture impossible.
Dinosaur Park offers daytime visitors a spectacular panoramic view of the area, with visibility said to span 100 miles and reach the Badlands. But a nighttime visit can be just as magical; during the summer, the sculptures are illuminated until 10:00 p.m. each night.
After taking plenty of pictures on and around the dinosaurs, head down to the Dinosaur Park Gift Shop and Visitor Center. The gift shop offers decadent locally-made fudge, souvenirs and fun family activities and games that will be an educational, yet fun, way to remember your stay in the area.
To get to Dinosaur Park, drive only 25 minutes from the Powder House Lodge on US-16E. Featuring towering concrete dinosaurs and jaw-dropping scenery, the park provides a memorable family outing the whole family will enjoy.
(605) 343-8687
940 Skyline Drive, Rapid City, SD 57702
Dinosaur Park Gift Store and Visitor Center Hours of Operation:
June – August: 8am – 8pm
May, September – October: 9am – 5pm
Fun Fact:
The species of dinosaurs represented at the park include the Apatosaurus, Edmontosaurus annectens, Dimetrodon, Protoceratops, Stegosaurus, Trachodon, Triceratops, and Tyrannosaurus Rex.