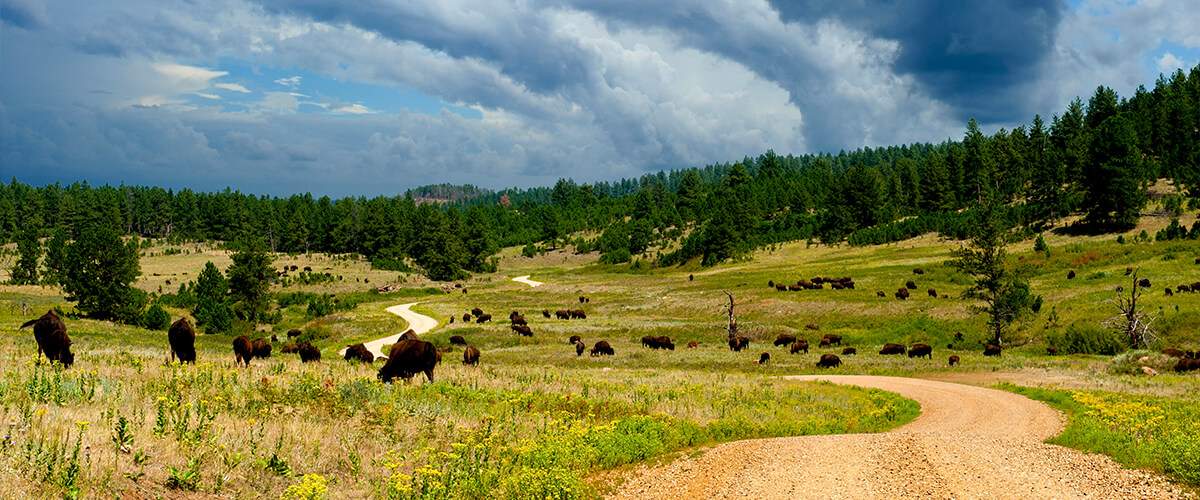 Custer State Park is the first and largest state park in South Dakota and is also a designated wildlife reserve for the herd of over 1,500 buffalo. Named of Lt. Colonel George Armstrong Custer, the park covers an area of over 71,000 acres of Black Hills National Forest. In 1927, the park's popularity skyrocketed as President Calvin Coolidge made Custer State Park his "summer White House." During the 1930s, the Civilian Conservation Corps participated in building miles of roads, laid out parks and campgrounds, and even built three dams, which created the current water recreation areas in the park.
In addition to the large herd of bison, Custer State Park is home to pronghorn antelope, mountain goats, bighorn sheep, deer, elk, mountain lions, prairie dogs, wild turkeys, and a band of friendly burros. Taking a day drive through the Custer State Park Wildlife Loop, you're sure to witness some of these amazing animals in their natural habitat. The Wildlife Loop isn't the only scenic drive you and your family can experience in the park. The Needles Highway is a 14-mile stretch of US 16 located within Custer State Park. Named after the granite peaks, or "needles," that the highway weaves in and out of, the Needles Highway is truly a scenic highlight of Custer State Park.
Every fall, Custer State Park is home to the Annual Buffalo Roundup. The Annual Buffalo Roundup draws thousands of people to Custer State Park from across the country. Watch cowboys and cowgirls as they roundup and drive the herd of approximately 1,500 buffalo. This is truly an amazing event, and we encourage all of our guests who plan on visiting during late September to make plans to view the Annual Buffalo Roundup. Not only is this a once-in-a-lifetime experience, but the Annual Buffalo Roundup is critical to maintaining a healthy bison herd in Custer State Park.
The fun doesn't end with the vast amount of wildlife and the beautiful Black Hills scenery. Custer State Park is home to a wide variety of activities throughout the year. With four mountainous lakes in the park, Legion Lake, Sylvan Lake, Center Lake, and Stockade Lake, their combined area equals approximately 182 acres of crystal clear fishing heaven during the summer months. With a variety of species of fish, it's no wonder that so many people enjoy the fishing and water recreation in Custer State Park.
Last, but certainly not least, Custer State Park is also home to many different trails you and your family can explore. From hiking and mountain biking to horseback riding, or rock climbing, explore the Black Hills like the locals and experience your adventure from the Powder House Lodge, near Custer, SD. Our cabins are centrally located in the Black Hills and within minutes of Custer State Park.
605-255-4515
13329 U.S. 16A, Custer, SD 57730
2017 Permit Details
Available: October 1, 2016
(annual licenses are available each year in October)
Expiration: May 18, 2018
Fee:
First License: $30
Second License: $15*
Transferable (valid for only one vehicle at a time): $65
*Purchasers of one license can also buy a second at half price.
Temporary Custer State Park Permit
Fee: $20 per vehicle | $10 per motorcycle
Expiration: valid up to 7 days
George S. Mickelson Trail Pass
Fee: $4 per day | $15 per year