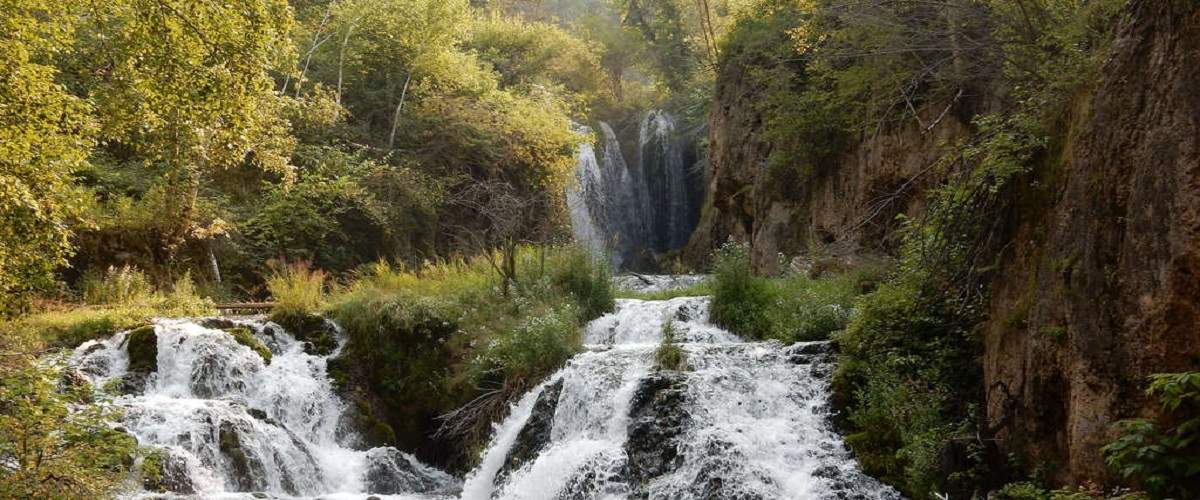 While it's one of the many breath-taking destinations in Spearfish Canyon, Roughlock Falls stands on its own as a must-see stop during your stay in the Black Hills. Located 14 miles east of Spearfish on Hwy 14A, the Roughlock Falls Nature Area provides fantastic views of the waterfall and surrounding landscape, hiking trails, picnic facilities, and the opportunity to get up-close and personal with wildlife. This attraction makes a great addition to your vacation itinerary if your family enjoys outdoor adventures surrounded by some of the best scenery South Dakota has to offer.
Fed by Little Spearfish Creek, Roughlock Falls' fifty foot limestone ledge provides a dramatic cascade that provides the perfect backdrop for photos. Although the waterfall is the main attraction, getting there is half the fun, and gives you an opportunity to stretch your legs after the scenic drive. You have the option between hiking the Roughlock Falls Trail, which is ideal for all ages and experience levels and begins at the Spearfish Canyon Lodge located right off Hwy 14A. Or you can follow the newly renovated walkway that winds from the parking area up to the waterfall. Either way you choose, you will get the opportunity to get up-close and personal with the jaw-dropping landmark.
Operated by the South Dakota Game, Fish & Parks, the Roughlock Falls Nature Area also contains picnic tables and restrooms that are regularly maintained. There is no park entrance fee, making this a perfect spot to stop for an outdoor lunch during a day of sightseeing.
In addition to the elk, deer, beavers, bighorn sheep and mountain goats that make their way through the area, visitors can also take part in bird-watching unlike any they've experienced before. Roughlock Falls Nature Area is one of the few places in the country where the American Dipper, the only bird that can both swim and walk underwater, can be spotted. The streams and creeks that flow through Roughlock are also teeming with life, and are popular with anglers looking to snag some colorful brook trout.
This beloved western South Dakota destination is open year-round; however, access is limited between December 15th and March 31st. And although the hiking trail from Spearfish Canyon Lodge is open 365 days a year, it is important to keep in mind that the area does receive a lot of snow during the winter, which may lend for a more difficult hike. As with hiking during any season, make sure you dress appropriately for the weather and pack plenty of water to ensure your comfort and safety.
During your stay at the Powder House Lodge, venture to Spearfish Canyon and visit the gorgeous Roughlock Falls. You'll quickly realize why it has become the most photographed landmark in the Black Hills.
605-584-3896
10619 Roughlock Falls Road, Lead, SD 57754