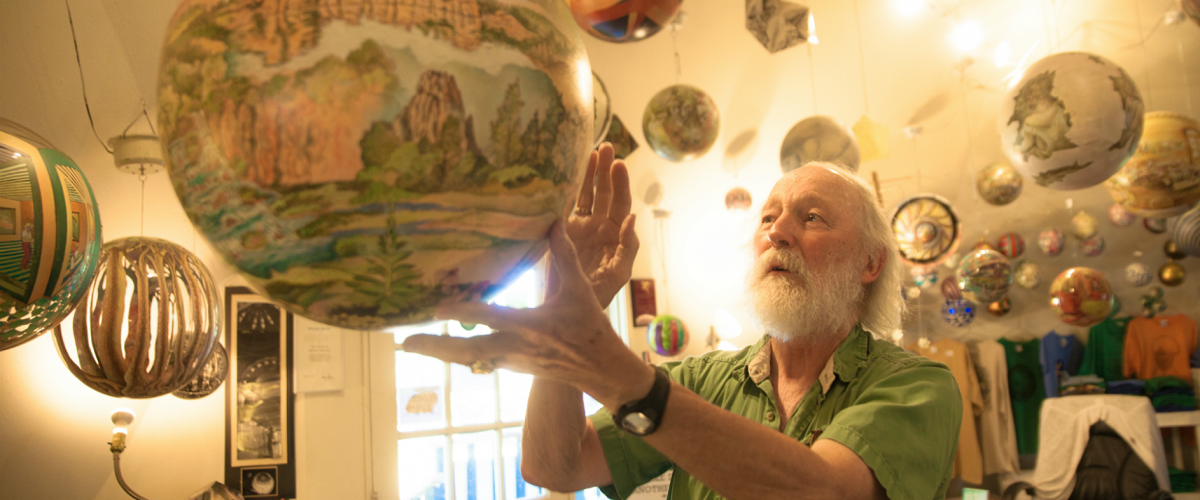 Tucked away down a dirt road in scenic Spearfish, South Dakota, the Termesphere Gallery is a hidden gem for those who seek unique art experiences. An hour drive from the Powder House, the gallery boasts intricate paintings by Dick Termes, who uses spheres as a canvas to bring his creations to life. The gallery is open year-round, with extended hours during the summer months, and admission is free. Take a detour off the beaten path for a one-of-a-kind art adventure that is interesting, affordable, and fun for the entire family.
Setting aside a good chunk of the afternoon is crucial when planning a visit to this eccentric gallery; once you start viewing the awe-inspiring optical illusions, it's easy to lose track of time as you're transported to a different universe. Termespheres are painted so that upon observing them, you can see up, down, and all around the landscape. They are also suspended from the ceiling and rotated by electric motors to enhance the three-dimensional experience. Dick Termes uses six-point perspective to achieve this extraordinary effect that allows viewers a 360° look into each unique world that he creates. The globes all represent different themes and tell their own stories; from a baseball sphere that depicts some of the great icons of the sport, to a double orb mimicking mitosis, there are a wide variety of subjects covered by the detailed Termespheres. No matter your interests, you are sure to find a piece of art that tickles your fancy.
Many of the 30-70 Termespheres that are on display at any given time are also available to purchase and would make a remarkable statement piece in any home. Other items are also available to purchase at the gallery, including puzzle replicas of Termespheres, instructional DVDs on learning to draw in six-point perspective, and fun trinkets that make great souvenirs to keep or to gift to your family and friends.
Dick Termes, who lives and works in Spearfish, is an internationally acclaimed artist who has been honored with many awards for his works, including being inducted into South Dakota's Hall of Fame in 2014. Termes uses the beauty of the Black Hills area as inspiration for many of his paintings, and has even painted a Termesphere dedicated to many iconic landmarks in the area, including places such as Dinosaur Hill in Rapid City, the Cathedral Spires in Custer State Park, and, of course, Mount Rushmore. He opened the dome-shaped gallery, which also houses his workspace, in 1994 for the public to tour. While walking through the studio, it isn't unusual to catch a glimpse of Termes, or even have the opportunity to chat with the local artist.
The Termesphere gallery is a great destination to put on your to-do list if you're looking to visit places that capture the eclectic and rustic essence of the Black Hills. The unique art is sure to cause you to see the world's dimensions in new ways, as well as spark your own creativity.
888-642-4805
1920 Christensen Dr, Spearfish, SD 57783
Hours of Operation
Summer:
Monday-Sunday – 9:00am-5:00pm
Winter:
Monday-Friday – By appointment only
Saturday and Sunday – 9:00am-5:00pm
Location
1920 Christensen Drive
Spearfish, SD 57783