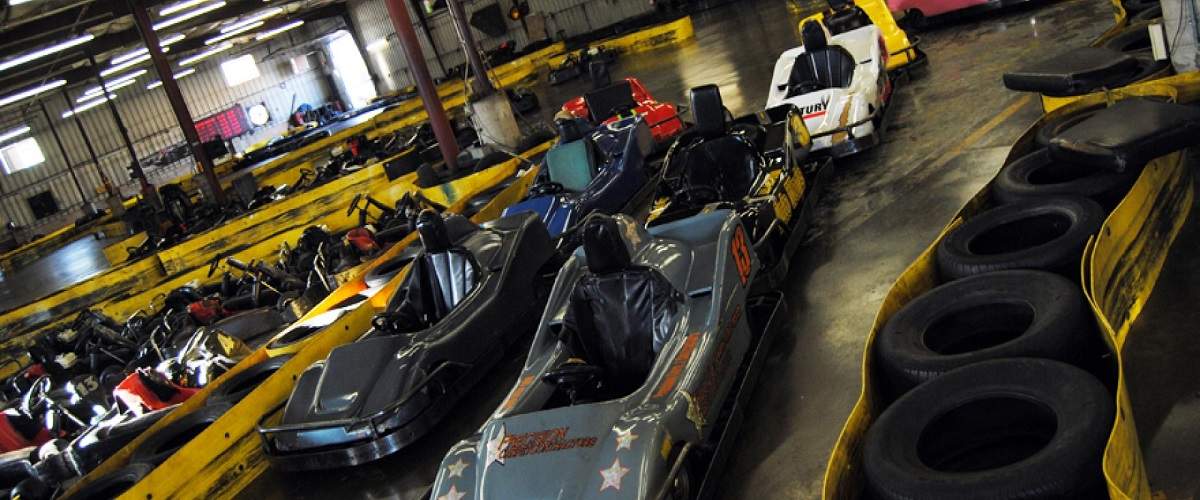 From zooming around the track in a go-cart to winning tickets for prizes in the arcade, Flags and Wheels Indoor Amusement Park near downtown Rapid City offers an array of family fun for all ages. The locally-owned and family-run business is a hit with locals and visitors alike and offers 47,000 square feet for guests to cut loose and challenge each other at one of their many exciting stations. Adding this Black Hills attraction to your itinerary is a must if you are looking for an outing that will please your entire crew.
If you have a need for speed, Flags and Wheels' extreme race carts are just what you're looking for. Reaching speeds of up to 40 miles per hour, the carts go twice as fast as regular go-carts while they wind around the 27,000 square foot indoor track. Drivers must present a valid U.S. driver's license and sign a liability waiver before they get behind the wheel of these amped up go-carts. For younger drivers that want to feel the thrill of the wind in their hair, Flags and Wheels also provides less extreme models that go up to 20 miles per hour and contain double seats so those under 52 inches can ride with a guardian.
Bumper cars are another popular offering, and the 1,000 square foot bullring allows up to six people at a time the opportunity to chase down and crash into their opponents. To ride alone, participants must be at least 50 inches tall; however, those that don't meet the height requirement can ride with an adult at no additional charge.

During your visit to Flags and Wheels, be sure to check out Rapid City's only laser tag arena! The 2,500 square foot maze accommodates up to 12 at a time, and contains black lights and fog to add to the experience. Each game of tag is scored by a computer and the results are listed at the end of every round, making it an easy way to indulge in a little friendly competition during your visit.
Reball, which is the Flags and Wheels version of paintball, also offers highly competitive entertainment without the mess of traditional paintball. The ammunition is reusable and doesn't include paint, eliminating what could be hours of clean-up. Up to 20 players can take part in a game at a time, making it an ideal activity for large groups.
The batting cages are another way guests can show off their skills. There are four cages available that can accommodate all skill levels and ages, and bats and helmets are provided.
If you need to pass some time while waiting for your group's turn at reball or the bumper cars, head over to the arcade and try your luck at the over 50 new and traditional games available. Those young and old will have a blast winning tickets, which can be redeemed for prizes.

Flags and Wheels is located only 27 minutes from the Powder House Lodge, making it a convenient stop during your vacation. With so many exhilarating activities offered, your biggest dilemma may be where to start!
605-341-2186
405 12th Street, Rapid City, SD 57701
Hours of Operation
Summer Schedule (Memorial Day through Labor Day):

Monday-Saturday: 10:00 a.m. - 10:00 p.m.

Winter Schedule:

Tuesday-Friday: 4:00 p.m. - 10:00 p.m.
Saturday: 10:00 a.m. - 10:00 p.m.
Sunday: 12:00 p.m. - 6:00 p.m.

Contact Information
Flags and Wheels
405 12th St. Rapid City, SD 57701
Phone: 605-341-2186